Netflix's 'On My Block' Series Premiere: The Kids Are Gonna Be Alright
In the new Netflix series On My Block, four close-knit friends—the "Core Four"—are just trying to navigate high-school life, the best way they know how.
The series "is a coming-of-age comedy" and these teens are dealing with more than the fluffy issues—"should we meet on the steps of the Met for lunch?"—you've seen on other teen dramas. They're street-savvy, curious yet aware, and raised in LA's South Central neighborhood.
And what sets this series (co-created by Lauren Iungerich (Awkward), Eddie Gonzalez & Jeremy Haft) apart is its cast made up of African-American and Latino actors. Viewers are introduced to Monse (Sierra Capri), Cesar (Diego Tinoco), Ruben (Jason Genao) and Jamal (Brett Gray), who, through the support and bonds of their friendships, deal with issues like gang violence, racial tensions, romance, and immigration.
"I feel so privileged. It's such a honor," said Tinoco at a Netflix press event in New York City. "I'm so happy that Netflix and Lauren Iungerich and Eddie Gonzalez and Jeremy Haft created this opportunity for us. And it's not just diversity on-screen but behind as well. The whole crew was diverse. We have Asian directors, Latino producers, Latino writers, African American writers. It was a huge melting pot on set."
"I'm about the movement. I am here for it and I think it's a dream come true," Gray added. "I would not have any other introduction [into TV] than this. I'm ready and I'm loving every second of it."
The movement? The cultural shift in Hollywood demanding inclusion and representation on screen. From Netflix's other series, One Day at a Time, to the runaway success of Marvel's Black Panther, audiences are devouring the fresh, exciting content.
"I think we knew that when we were filming this that it was going to create a shift but I don't think that we knew how much of a conversation it would bring about," explained Capri.
See Also
It's a growing theme on current and in-the-works series.
The bond among the Core is evident even off-camera. The cast shared a house before and during filming, and enjoyed their time off together, as well. "Off the bat we were like brothers and sisters here," explained Tinoco.
Genao agreed: "We clicked at the chemistry read before we even got the parts. We had everyone's numbers and we were in a group chat."
The time spent together was something Capri found extremely helpful as she developed her character. "The more we learned about each other, the more we learned about each other's characters. We learned just how alike we were to the characters."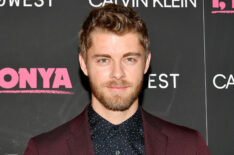 See Also
Plus, 'Whiskey Cavalier,' 'The Righteous Gemstones,' and more pilot news.
On My Block, heavily influenced by John Hughes movies and The Goonies, doesn't simplify the content or themes just because teens carry the show. The issues that make headlines affect someone below the age of 18 just as much as that person's parents or grandparents.
"Kids are so smart. Kids know what's going on and what not to do and what to do. I think that it's so cool to be on a show where we are just as smart as the things going on around us," said Gray. "It's an interesting perspective to see kids trying to outsmart their situation as opposed to being controlled by it. I almost think it elevates what's happening to them."
Watch the trailer below:
On My Block, Series Premiere, Friday, March 16, Netflix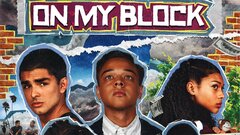 Powered by