'The Challenge's [Spoiler] on Her Elimination: 'I Was Blindsided'
[SPOILER ALERT: This recap features spoilers from the March 13 episode of The Challenge.]
Britni Thornton found herself with some new vendettas after The Challenge: Vendettas' all-new episode on Tuesday night. Watch out Tony, Zach and Natalie—this 5'4″ spitfire is gunning for you after her elimination at the hands of tough-as-nails mercenary Laurel.
In a physical challenge that tested pure strength, endurance, and mental focus, Britni was ousted. Joining her in the elimination ring were Nelson, Brad, and Cam, who went up against Challenge OGs and fellow mercenaries Darrell, Frank and Ashley, respectively. They all came out victorious. Well, except Nelson, who drew with Darrell and didn't receive a coveted grenade for his hard work.
Britni spoke to TV Insider about her elimination, where she stands with boyfriend (and fellow contestant) Brad now, and who she would have made an alliance with if given a redo.
See Also
ABC's newest 'Bachelor' franchise bears a lot of similarities to MTV's latest iteration.
What did you think about Natalie, Tony and Zach's betrayal?
Britni Thornton: I was blindsided. When I had Tony shake my hand, I was like, "At least tell me." I should have known right then and there. My light bulb should have went off—"He didn't even tell his own best friend that he was going to send him, why would he tell you?" So evil.
It really sucks to be caught off guard. I think the worst part was I couldn't really argue, because during the challenge I didn't really do anything. But I didn't have a choice. There was nothing for me to do. We were the builders, Tony and I, so all we could do was stand there. I'm short, so I can only get up so many crates. Tony had to do the rest.
When I go up against Laurel, as I'm going up to get all linked up, they were like, "Oh, this one's not going to last very long." I looked at them, and I think that added the last little bit of fuel to my fire.
What ran through your head when you saw those mercenaries walk in?
I was praying to God I'd go up against Ashley. [She's] a beast, but at least we're similar in size.
What was your strategy against Laurel?
I did put up a hell of a fight. I tried draining Laurel of her energy. That's what Nelson did. I figured for Laurel, because she's a beast, the best things is just to kill their endurance a little bit. Unfortunately, [Laurel's] a tall b*tch. I'm barely 5'4″ and she's what…6'2", 6'4"? [Laughs.]
I was pissed when that bell rang. I wasn't even winded yet. My key was to anchor down. Yah, I was fighting. I was trying to inch my way over. There's nothing to hold on to. You're trying every way to grip your feet a certain way, your fingers.
Were you happy it was a physical challenge?
No, I knew I was done for. As soon as TJ explained what the elimination was, I looked at the camera and was like "Yep, I'm done today. I'm dead. I'm going home."
See Also
The 'Challenge' veteran really sucks at puzzles.
Laurel and her ex-girlfriend, Nicole, had a moment. What was it like seeing that?
It was weird to see Laurel vulnerable. For a split second you saw [Laurel] with her wall down and letting her emotions out. It was kinda like watching The Notebook. It was a really sad love story.
How was it saying goodbye to Brad [Fiorenza]?
It was sad. It was so hard. I was leaving my other half, my boyfriend there. It made me realize immediately that, "Wow, I think I love the guy. I do love this guy. No, don't take me away from him yet."
Did you tell him that?
Absolutely. After he got home, we talked about how we're going to give the whole relationship thing a go and give it all we got and enjoy the ride. So far it's been going really well, so knock on wood.
If you could go back and make an alliance with anyone in the house, who would you have spoken to?
Definitely, I would have immediately talked to Tony, Zach and Nicole. Even Kailah had a lot of power because she was so close to Tony and Zach. I would have told Tony, me and Brad and him can all work together.
Who are some other reality celebrities you'd love to see on The Challenge?
I love the Jersey Shore cast. I think it would be really cool. I would be that fan girl.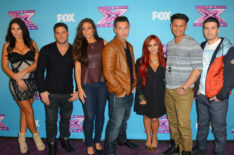 See Also
GTL, all day long.
The Challenge: Vendettas, Tuesdays, 9/8c, MTV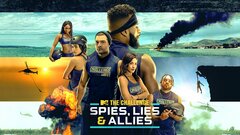 Powered by