'The Challenge: Vendettas': [Spoiler] Advances to the Final Four
[SPOILER ALERT: This recap features spoilers from the April 3 episode of The Challenge: Vendettas.]
It's a long, slow climb to be top, and when The Challenge: Vendettas shipped its final eight contestants off to Prague, Czech Republic, for the final challenge of the competition series, producers didn't hold back.
In the finale, the top four guys—Leroy, Tony, Kyle and Zach—and the top four girls—Cara Maria, Kam, Kailah and Nicole—were brought to Kost Castle for a two-stage challenge. The first stage was a 1.5 mile-long, physically exhausting check-point course, and the second stage turned out to be a puzzle.
See Also
This new season is sure to entertain.
To throw a wrench in the plan, two mercenaries showed up to thwart the challengers. Johnny Bananas and Melissa rose from the dead to try to seek revenge on some players they had vendettas with.
After the trek through mud, chains and armor, only four remained: Cara Maria, Kailah, Zach and Kyle. But host TJ Lavin was still holding a grenade in his back pocket: There will only be one winner in this series, so now it's a solo battle for the prize money.
Finalist Kailah spoke to TV Insider about what was going through her mind during her final challenge.
What was the most difficult part of the final challenge?
Kailah: To start out, it was really cold outside that day. I couldn't feel my feet, and it was super muddy. Then they tell us we're going to have our feet shackled for one leg then we're going to wear knight's armor for another leg. All of it was really hard. I feel like the whole season led up to that. Mentally and physically it was just draining.
Were you surprised when Johnny Bananas and Melissa walked out?
I wasn't happy about it, obviously, because I sent Bananas into elimination earlier in the season, and Melissa and I have never gotten along from day one. With these games you just never know what's going to happen. I never though they'd have any power to hurt me at the end of the game and I didn't prepare for that. I learned you have to mend all bridges early on because you never know what's going to pop up later on.
When Nicole hurt herself, were you relieved?
I love Nicole, don't get me wrong, but in that moment, it's game time, and none of these people are my friends. That's one less person I have to beat and that's one step closer to the money.
Were you surprised by Kyle's performance?
Kyle came into this Challenge saying he parties, he gets drunk, but every single challenge we go to he's kicking everyone's ass and outrunning everyone. So by the time this final came, I knew Kyle was going to be one of the top competitors.
See Also
'Just because I'm a mom doesn't mean I don't drink and have a good time,' says Polizzi.
How did you feel about the mental challenge as the final leg?
A part of me thought "Okay, this makes it an even playing field. There's a possibility I could win." But at the same time I'm not great a puzzles so I'm kinda like "sh*t." I'm tired and I'm ready to get this thing over with.
What did you think when TJ announced the one winner rule?
Having one winner was a huge shakeup because we played the entire game assuming it's going to be a guy and a girl who win. How we played the game was: The guys are trying to keep around the strongest girls, and the girls are trying to keep around the strongest guys in order to pair with someone at the end and s/he is going to help you win. Now, I'm in the running with the strongest people and anyone can take the money.
What can you tease about the reunion (Tuesday, April 10)?
I got to talk to Kayleigh about the suitcase being thrown over the balcony. I dunno if "talk" is a good word. Probably "yell" is better. We had words. Fans can look forward to Devin confronting Bananas which was probably my favorite part.
The Challenge: Vendattas, Tuesdays, 9/8c, MTV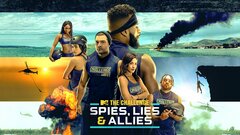 Powered by