5 Ways 'Bachelor Winter Games' Is Basically MTV's 'The Challenge: Vendettas'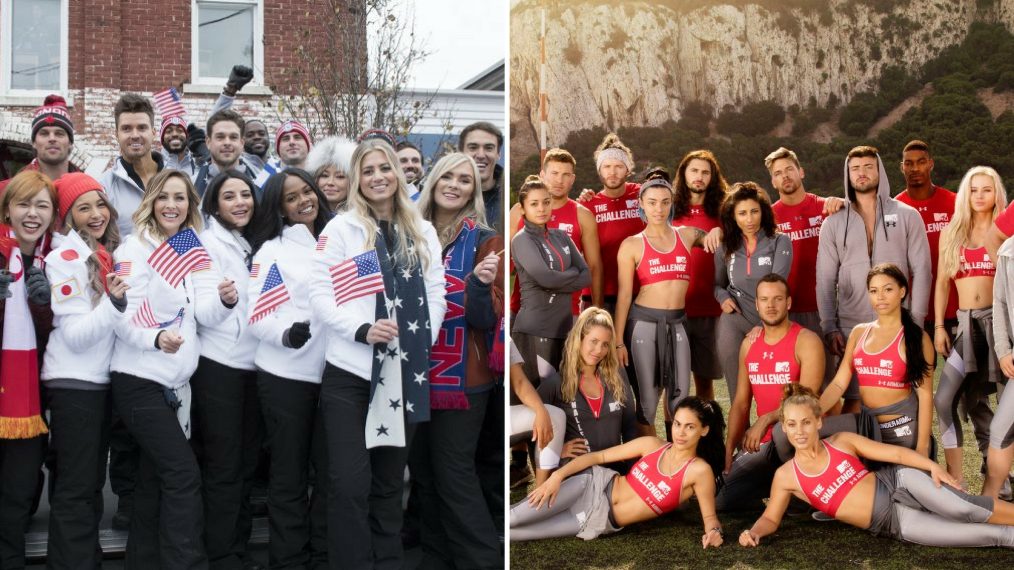 The PyeongChang Winter Olympics have done more than entertain us—they've seemingly inspired a number of new, international versions of reality TV competition shows!
MTV was the first to get in the action when they launched The Challenge:Vendettas on January 2, featuring international reality contestants from outside of the usual Real World and Are You the One?—culled batch.
And now, ABC has followed suit with Bachelor Winter Games, premiering Tuesday, which brings contestants from Bachelor franchises around the world together for some winter sport-themed challenges—and possible love connections.
If you still don't think these two sound alike, read on for five ways the shows are basically the same:
1. Fierce Physical Competition
Mel is about to catch these hands 👊 #TheChallengeVendettas pic.twitter.com/CUh4pOYpid

— The Challenge (@ChallengeMTV) January 31, 2018
The Challenge is known for its crazy physical challenges, and most of the regular contestants train for months in advance. The competitions test their strength, endurance, and even their brains.
In the past, The Bachelor has mostly been a show about love, but this year, romance is sharing the passenger seat with some healthy physical competition. Sure, the cast won't be engaging in the same rigorous activities as the mountain climbing and skydiving we see on The Challenge, but they will have to face off in various winter sports—skiing, speed skating—to win a date card.
2. Global Reality Stars
As much as you may love Bachelor Nation, there's a chance you don't know anything about the international Bachelor world—until now! This spinoff features contestants from the U.S., Canada, Australia, Japan, China, New Zealand, Sweden, Switzerland, Germany, Finland, and England.
On the same note, with this season The Challenge added international reality stars from MTV UK's Ex on The Beach and Geordie Shore, and went outside the MTV family with contestants from CBS' Big Brother.
3. International Love
What else would you expect when you put a bunch of international contestants under one roof? Bachelor Nation is tight-knit and those brought on this season were, for the most part, familiar with one another. But when new faces were introduced, heads were definitely turned, and Team USA set their sights on the foreign prospects.
Similarly, UK contestants definitely shook up the American vets on The Challenge, spurring a love triangle between rivals Cara Maria Sorbello and Marie Roda with Ex on the Beach's Kyle Christie. It also created a fling between the US's  Nicole Zanatta and Brit Melissa Reeves.
Alliances Are Everything
The name of the game for both shows is to stay in the game. Usually, it's a rookie vs. vets situation on The Challenge, but with the shows coming together, alliances prove to be country-specific. The same goes for The Bachelor Winter Games.
Both shows also have guys and girls week eliminations, causing people to attempt alliances with the opposite sex—usually through flirtation—in order to stay in the game.
Retirees Back for Vengeance
After Bachelor in Paradise Season 2, Clare Crawley from The Bachelor said she was officially "retiring" from The Bachelor. Now, she's back for Winter Games, and she admits that the addition of international contestants convinced her to give it one last shot. And if you know anything about Clare, you know she's willing to fight for her man.
On the other hand, The Challenge's Brad Fiorenza has returned after an eight-year retirement—one that included marrying castmate Tori Hall, starting a family with her, and then ultimately divorcing her. A newly-single Brad is back, ready to stir up the drama and aiming to take down Johnny "Bananas" Devenanzio—all with a side of romance with younger female castmate Britni Thornton.
America loves competition, and with that being said, our guess is The Chall—errr—Bachelor Winter Games will draw more viewers than this current season of The Bachelor.
The Bachelor Winter Games, Premiere, Tuesday, February 13, 8/7c, ABC
The Challenge, Tuesdays, 9/8c, MTV