'The Challenge: Vendettas': Johnny Bananas Talks About That Elimination Moment
[SPOILER ALERT: This recap features spoilers from Season 31, Episode 10 of The Challenge.]
Johnny Bananas is the reigning king of MTV's The Challenge. His résumé includes 14 challenges, 12 countries, 6 victories, 5 continents, with over $685,000 won and he's still going.
That is, until the most recent episode of The Challenge: Vendettas. In a bizarre twist of events, Bananas found himself in the elimination ring competing against Devin after Tony called out his name. And the elimination game? A puzzle.
Bananas spoke to TV Insider about his loss, what was going through his mind, and about the drama that went down with Kayleigh that ultimately made her leave the show.
See Also
ABC's newest 'Bachelor' franchise bears a lot of similarities to MTV's latest iteration.
What was your mindset entering the elimination ring?
Johnny Bananas: It wasn't good. There was a lot up in the air. When you're in inquisition, even if you're pretty sure you're going in, until you actually hear your name, you just don't have that same ability to prepare mentally. I was hearing two different stories so I didn't know until the point when we walked in. So that's not good for the mental game.
And at that point, I had a pretty serious hip injury I was nursing. It's almost like they were like "Hey, let's take out the wounded." I was having trouble walking, let alone sprinting back and forth. And the fact that it was a puzzle. Puzzles just have never been my strong suit. I would have loved if it would have been something more physical. It was kinda like the perfect storm. The perfect set of circumstances.
Were you blindsided by Tony?
I knew he was capable of doing it. I just didn't think he actually would. I've kinda done more for, looked out for Tony more than anybody. I looked at him as a younger brother. I stuck my neck out for that guy multiple times just to keep him out of trouble. It wasn't necessarily him throwing me in, I understand you gotta do it for your game. What really upset me was the fact that he didn't give me a heads up at all. I figured after all I've done for that guy in the past, he at least owes me that.
Are you gunning for Tony in the next Challenge?
Let's put it this way. The days of Tony coming in and being able to be the lovable, happy guy…he's gonna have a much tougher road from here on out.
Do you like being labeled the villain?
I mean, that's every season. I've just accepted it at this point. No matter what I do in the house, no matter how I try to behave, no matter how many good deeds I do, I will always be the villain. And they'll edit whatever way they have to to make that happen. I'm just gonna own it.
What did you feel about Devin in that elimination moment?
Ya know, if he was going to beat me at anything this was perfectly set up for him to win. According to Tony, had it been physical he wouldn't have said my name. Tony was basing his decision based on the [type of] elimination. Tony felt the best way of getting rid of me would be putting me in a mental competition because physically there would be no way.
Do you think Kayleigh made the right decision to leave The Challenge?
Oh, absolutely. I've never seen a mob mentality in the house ever before like it was this season. Basically these girls [Jemmye, Kailah, Britni] just ganged up on, picked on who they felt like was the odd man out, even the weakest link.
If you look at the girls involved in this, they're not exactly strong players. They almost had to create the next person up on the chopping block because I think they all felt very inadequate about their physical abilities.
They were trying to find a way to make Kayleigh the scapegoat for the next girls elimination. Jemmye, Kailah, Britni—all they was talk sh*t about Natalie but then all of a sudden they saw an opportunity to alienate Kayleigh. So it was almost like Natalie as just a pawn. They almost used Natalie as an excuse. Both those girls, in their own regard I thought, got a really raw deal this season.
If one of the girls had beef with another girl that's one thing. But there was really no justifiable reason for the girls to do what they did, especially in a mob mentality. These girls have done it be before when they did it to Melissa. You're literally bullying these girls [Melissa and Kayleigh] who have no support and no one to have their backs. I thought it was f***ked up.
See Also
We break down the best and worst moments of the first two episodes.
Do you think the show should have had Jemmye, Kailah, and Britni leave instead?
Yes, 100 percent. [The show] did, they tried to send them to a hotel but for whatever reason it didn't happen that night. That's why Kayleigh was justified in leaving. I wouldn't have felt protected in that environment.
The only thing you have [in the house] is your personal belongings and your personal space. When that's violated, you have nothing. So the fact that [the show] allowed these girls do that with zero repercussions was horrible.
Who's a new contestant you want to see on the next Challenge?
Chad Johnson. I love that he went on The Bachelor and he exposed it for as corny as it is. I can relate because I know what it's like to be the villain on TV. I love that guy and what he brings to TV.
The Challenge: Vendettas, Tuesdays, 9/8c, MTV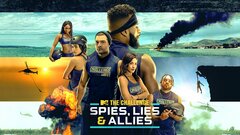 Powered by