'Marvel's Jessica Jones' Creator on Telling Jessica's Origin Story and More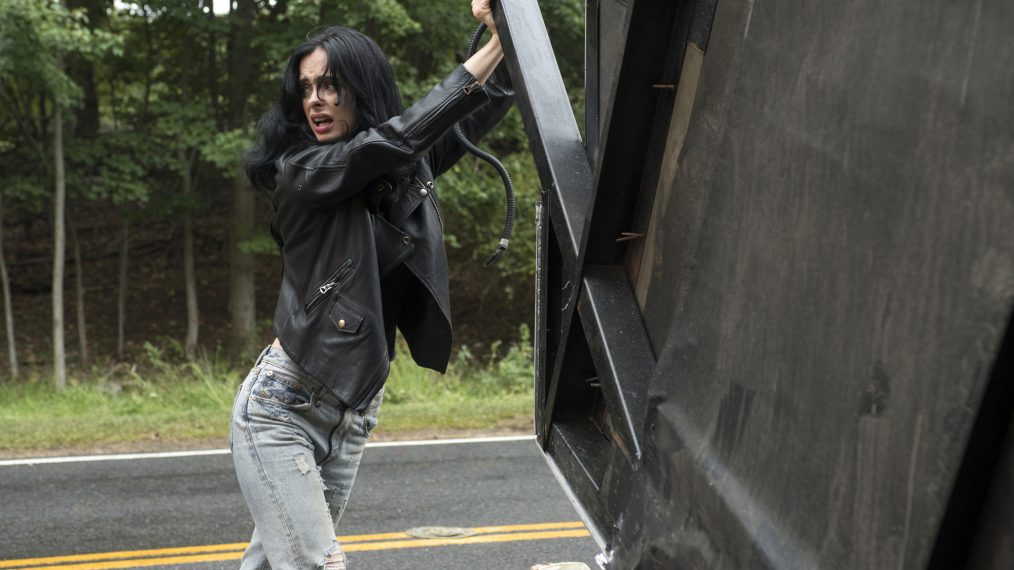 On March 8, International Women's Day, Netflix dropped the 13-episode Season 2 of Marvel's Jessica Jones. Before we started binging the sophomore season, we picked the brain of creator Melissa Rosenberg on all things Season 2, from trusting Jessica's (Krysten Ritter) right-hand man Malcolm (Eka Darville) to shooting a music video (yes, seriously) in this season.
This time around, the show is delving deeper in Jessica's past. Why did you decide to take that angle and are we going to see a much more vulnerable Jessica as a result?
Melissa Rosenberg: When we leave Season 1, we have Jessica taking a life after spending an entire season trying to do anything but that. While it had to be done, and it was justified, she still took a life.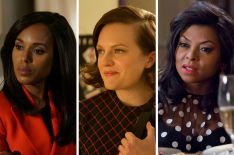 See Also
These ladies prove strength and independence knows no gender.
We go into Season 2 with her having that experience of herself which raises all sorts of questions for her like, 'Is this who I am? Am I killer? Or a monster?' There's some really deep questions about who she is and that coincides with Trish [Rachael Taylor] stirring up the snake-pit with her investigations and creating this external conflict that forces Jessica to really examine her past, her history; who she is and what she is.
This is a character who is pretty tough and really keeps her guard up, but there are some times where it's naturally going to take her to some really vulnerable places. Krysten Ritter, in this extraordinary way, manages to maintain Jessica's hard edge, but also allow the audience into her vulnerability.
What was your goal for Season 2?
There's the broader scope of just wanting to peel more layers back on our characters and find more interesting, evocative storylines, but I also just really wanted to get into the origin story. That was one of the goals – keeping it vital and engaging in her present day while also examining her origin.
How will we see Malcolm evolve in Season 2? He seems like the greatest guy for Jessica to have in her corner now that he's clean, but I still don't entirely trust him.
Malcolm's journey over the course of the whole series is a coming-of-age story. Season 2 really has him trying to build something for himself and he too is dealing with this question of 'Who am I? And how will I contribute to the world in a positive way?'
I think one thing that might be stirring your mistrust of him is, I don't think he knows himself as well as some of the other characters know themselves. He's still really figuring out who he is. We know that he's an addict. We know that he comes from a fairly religious family, but he's really trying to figure out what his role in the world is, and that could take him in any direction.
Trish is reaching a point of desperation with her show. How far is she willing to go to get ratings?
We're taking Trish to some pretty edgy places this season. We're talking all of our characters to some pretty edgy places. One of the great things about Season 2 versus Season 1 is in Season 1 you're really building your lead character and building a world, but then Season 2, it's all built and you get to play in it. So we really get to expand our characters' lives and stories. Each one has a really rich journey of their own that is connected to one another.
And then there's the new guy, Oscar (J.R. Ramirez). I couldn't help but notice that he's listed to be in every episode. Who is this guy?
Oscar is a very different kind of person than Jessica and hence a really great foil, or mirror, for her. He has a very open heart, a big family, he loves his son – he's just very warm in his life. Jess has really never been around someone like that, never gotten involved with someone like that.
When we first meet him, he's feeling very protective of his family and his son particularly. He sees Jessica and the sort of attention that she brings, all the cases and cops – he sees that as a threat. Once he gets on the other side of that, he is able to see her heart, which is very hard to find from the outside [laughs]. It takes her in some interesting new places.
See Also
'Marvel's Jessica Jones,' 'Santa Clarita Diet,' and other Netflix originals return this month.
How does this season's Big Bad differ from Kilgrave (David Tennant) last season?
Last season, Kilgrave was an incredibly rich character, and also a classic villain. He really was the Big Bad for the season, whose story gets resolved by the end of the season.
We knew going into this season that we didn't want to repeat ourselves. We weren't going to do Kilgrave better a second time, so our attention was to really reset and build this series this season differently. It's a much more steady burn throughout. The conflict for Jessica is both external and internal, so it has a bit of a different feel to it, a different pacing and momentum. It's basically a 13-hour movie.
Was there anything you were dying to include in Season 2 that didn't make the cut? Something you wanted to see Jessica do, or say, or punch?
There's always stuff. You're always killing your children as a writer. We got so much of it in there this time though, so I really can't think of anything!
That's good! What else can you tease about this season?
Well, if you keep watching you're going to get a music video.
I know you won't give specifics, but what?! How was that to film?
It was one of my very best days on set in my entire career. I came into this business wanting to be a choreographer way back in my youth, and I did not choreograph it obviously, but I got to sit in on rehearsals and pretend I knew what I was doing.
And it's definitely a real music video, not a dream sequence or something?
It's definitely real.
Marvel's Jessica Jones Season 2 is now streaming on Netflix.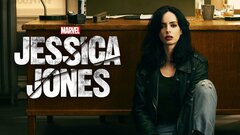 Powered by