The 'Roseanne' Cast Discusses Pushing the Limits of Storytelling in the Revival
It's a sad truth that some reporters want the celebs they interview to like them. Others don't give a rat's rear. But all I care about on this December morning in Studio City, California, is that Roseanne Barr doesn't yell at me.
Sure, she's been perfectly civil to the press since ABC announced last spring it was reviving Roseanne, the classic "feminist working-class family sitcom" (her words) that made her famous. Still, the lady has a reputation. She's crazy! She's crabby! She's crass! Even Barr admits that, over the show's initial run (1988–97), she hired and fired at whim. She's made people much more powerful than me (i.e., ABC execs) sweat spinal fluid. She rages on Twitter. Still, I love Roseanne. So getting shade from the star would sting.
See Also
New characters are introduced alongside the familiar Conner faces.
Why am I being so personal? Because Roseanne is personal, and it got personal, at a time when few comedies did. It was honest about the drudgeries faced by blue-collar Illinois high school sweethearts Dan (John Goodman) and Roseanne Conner (Barr), their children—popular blonde Becky (Lecy Goranson), sullen tomboy Darlene (Sara Gilbert) and cherub-faced D.J. (Michael Fishman)—and Roseanne's single younger sister, Jackie (Laurie Metcalf). It embraced TV taboos that even dramas feared.
Plots touched on birth control, gay rights, drugs, alcoholism, sexual dysfunction, mental illness, abortion and racial prejudice. "I used to think, man, there's way more material in the things they don't say [on TV] than the stuff they do," Barr explains later that day while prepping for a dress rehearsal. "And it's not like I just made it up. It was all from my real life." (By the way, she's warm and chatty. Phew!)
Viewers connected to those tales big-time. "When Dan, Roseanne and Jackie smoke pot!" Barr says. "That's everyone's favorite episode!" Metcalf chooses a different one: "People really get a kick out of when their dad dies and Jackie has to scream the news to their aunt over the phone," she says. "They quote the last line back to me a lot. 'HE'S FINE, HE SENDS HIS LOVE!'"
But more often, fans cite different episodes that moved them. "I always get asked about the Season 2 episode 'Brain-Dead Poets Society,'" Gilbert says. "People really responded to it, I think, because it's when Darlene writes a poem publicly admitting she's not a popular girl." Then there are the episodes that hit embarrassingly close to home. "In middle school, my sisters bugged me for taking long showers," says one fan (who asked to remain anonymous). "Then we were watching Roseanne as a family and D.J. was doing the same thing, because he was masturbating. I was mortified, but it was right!" See, personal. And groundbreaking.
See Also
ABC dropped the first preview during the Oscars 2018.
"I know I've done some positive things for people," Barr says. "That's what we're back for." According to the 65-year-old star, she really hadn't considered a reboot until Gilbert approached her about it last year. Gilbert got the idea when Goodman appeared on an episode of her daytime CBS chatfest The Talk. She asked him on air if he would ever consider doing a revival. He said yes without hesitation. Inspired, she contacted Roseanne's original producers, Tom Werner and Marcy Carsey. "Everybody immediately went, 'Yes,'" Gilbert says. "Even the people I thought wouldn't. Then the network immediately said yes. Tom was like, 'Let's lock a date.'"
Barr had one stipulation: This time around, Gilbert, as an executive producer, would handle any disagreements with the network and writing staff. Comedian Whitney Cummings signed on as showrunner alongside previous Season 5 showrunner Bruce Helford. Another newbie on the writing staff: stand-up comic Wanda Sykes.
Metcalf was starring on Broadway when she got the call and had to juggle filming with press for her Oscar-nominated role in Lady Bird. "I'd been hoping for a Conner reunion for 20 years," says the actress. "I couldn't wait to learn what Jackie was doing in 2018." Turns out she's a life coach (Jackie's ever-changing job was a long-running joke in the first series).
And remember that not-so-well-received addendum to the series finale in which Roseanne said the entire show was a story she wrote to deal with Dan's death? Forget it. Now in their mid-sixties, Dan and Roseanne live in the same house in Lanford, Illinois. He's a contractor. She's an Uber driver. They're still living paycheck to paycheck and struggling to afford medication on their pitiful insurance—Roseanne has become dependent on prescription painkillers for her bum knee.
They're also still devoted to each other. "If they weren't a great team, there'd be no point in going on," Goodman says. "Now they're 20 years stronger. They deal with things through good humor and love. You have to adapt or you die." Darlene is separated from husband David (The Big Bang Theory's Johnny Galecki, who will return for one episode) and recently moved back home with her teen daughter, Harris (Emma Kenney), and 9-year-old son, Mark (Ames McNamara). Mark likes to dress in girls' clothes—something Dan and Roseanne accept but fear the rest of Lanford won't.
Watching Darlene parent isn't easy for Roseanne, who must have her say. "The apple doesn't fall too far from where you drop it," Kenney says, laughing, "so Harris and Darlene are similar and they both are like Roseanne. There's a lot of female power in the house."
See Also
The outspoken star had much to say about politics and how the show reflects them in the new season.
D.J., an ex-soldier recently back from Syria, also has a kid: biracial daughter Mary (Jayden Rey). "He's trying to reestablish himself and get comfortable in society again," Fishman says. "He's not always as smooth as he'd like to be."
Becky, meanwhile, is a widow (Glenn Quinn, who played her husband, Mark, died in 2002) working as a waitress at a Mexican restaurant. "I'm proud of old Becky," Goranson says. "She's holding a job, but she's been coasting through life shut down because of her grief. Then she has this epiphany." She decides to be a surrogate for a rich woman, played by Scrubs' Sarah Chalke (lovingly known as "Second Becky" for replacing Goranson on-and-off during the 1990s). Also back: Sandra Bernhard as Roseanne's gay friend Nancy; Estelle Parsons as Jackie and Roseanne's mom; and Natalie West as the sisters' flighty bestie, Crystal.
And, yes, Roseanne voted for Trump—as a result, she and Hillary supporter Jackie haven't spoken for a year. "We wanted to reflect our country now and how even families are divided, people have flaws, they're opinionated and they can be both right and wrong," Barr says. "But we make it funny." And then, out of the blue, she compliments my shoes.
Roseanne, Tuesday, March 27, 8/7c, ABC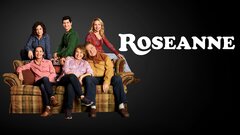 Powered by