'American Idol' Executive Producer Trish Kinane Details the Reboot's New Twist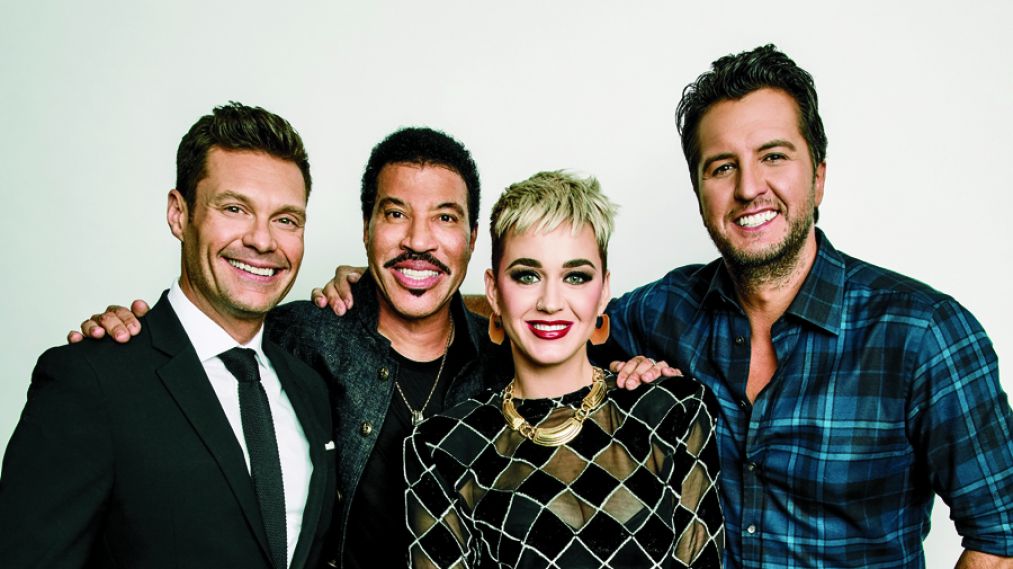 It's Hollywood Week at ABC's American Idol, but music isn't the only thing on the agenda. The infamous portion of the competition—where contestants are pushed out of their comfort zones with solo and group performances—has taken its toll on the aspiring singers, and many of them struggle to remember their song's words. They are, however, not the ones about to be blindsided.
When an impassioned Lionel Richie stands to speak to a set of hopefuls after a performance, his fellow judges, Katy Perry and Luke Bryan, stealthily work together to put a whoopee cushion on his chair. Though the cushion doesn't make as loud a sound as the duo had hoped, they're clearly amused with themselves. "I tried to bring some dignity to the show," Richie, who has an Oscar and two Grammys, jokingly bemoans.
This is American Idol, the reality competition that sets out to find new chart-toppers—and aired what was billed as a series finale two years ago on Fox. But the door was left open when host Ryan Seacrest closed out that April 7, 2016, show, saying goodbye "for now." Cut to 2017, when a number of networks expressed interest in reviving the series. While Idol was no longer the knockout juggernaut of its early years, it was still a Top 20 show in its final season.
"Being at a different broadcast network has given Idol a freshness," says executive producer Trish Kinane, who also worked on the first iteration. "ABC was a natural fit for the audience: They like warmth, humor and stories." The network has already implemented a twist.
During November's American Music Awards, the auditions of three singers who didn't advance past the initial round with the judges were played for the viewing audience to vote one back in; the result was announced during the next night's episode of Dancing With the Stars.
In recent weeks, ABC has aired commercials with characters from its scripted shows singing poorly—such as Modern Family's Gloria (Sofía Vergara)—and proclaiming that not everyone can be the next Idol. Fans can also expect a tweak to the live shows that the producers are keeping close to the vest. (The series airs Sundays and Mondays for seven weeks, then shifts to solely Sunday episodes until the two-night finale.)
One thing ABC did not want to change: host Seacrest, the one on-air constant throughout the show's 15 seasons. Prior to the ABC revival coming to fruition, he joined Kelly Ripa on Live With Kelly and Ryan, which films in New York. Idol shoots in Los Angeles, but Seacrest was determined to make a return work. "I have so much affection for Idol—it's emotional," he says. "I don't think it was ever a matter of whether I wanted to do it; it was more a matter of whether I could figure out if I could manage it, given my daily commitments on Live With Kelly and Ryan and my radio show."
Finding the superstars to make up the all-important judging panel was also a months-long process, as producers searched for people with industry experience and group chemistry. Pop superstar Perry—the first female artist to have an album with five Billboard No. 1 songs in the U.S.—had circled an Idol job previously and was the first to sign on. Country singer Bryan ("I Don't Want This Night to End") and singer-songwriting legend Richie (a Perry request!) boarded the series a few months later.
"These judges are very outspoken and forthright in the way that the original panel [of Simon Cowell, Paula Abdul and Randy Jackson] was, but they're also very warm; they want to help these contestants," says Kinane. "They don't want to give them false hope if they really don't have what it takes."
Of course, the real stars of the show remain the contestants. To find the best contenders, producers took two buses on tour to 23 stops around the country, scoured online videos and found a "refreshed talent pool," Kinane says. Notes Seacrest, "Some arrived as seasoned singers, while others came down with extreme stage fright. But what makes American Idol great is how the show attracts so much talent. We have uncovered some diamonds in the rough who are undeniable stars."
The judges agree that the best part of their job is watching the contestants come into their own onstage. "One guy just grabbed the mic—he was shy, couldn't make eye contact—and then he opened his mouth and I had chills," Richie says. "I was thinking, 'What in the world just happened to that kid?'"
"There are no scripts, no one telling us what to do," Perry says. "We thought maybe there would be some slight steerage [by the producers]. Not at all. We pick who is going to make the Top 50. We pick who is going to make the Top 10. America will pick the top person, which is good, because we're too close to it."
"I wasn't prepared for the emotional toll," Bryan adds. "There are kids where, after we cut them, I lay in bed, thinking, 'Ugh, I hope I made the right decision.' But I'm glad I have a personal attachment. If we're all pulling that hard for these kids, people at home are going to feel that, and it's going to feel genuine."
Perry appreciates that deserving contestants could experience some major life changes. "There's proof in past seasons that you can launch careers and change people's financial and family situations," she says. "That's a beautiful thing. I wanted to be a part of the great American dream again."
Idol boasts the biggest success stories of all the music competition shows—among them, superstars Kelly Clarkson and Carrie Underwood, Scorpion's Katharine McPhee and Oscar-winner Jennifer Hudson. "Idol is about finding, helping and enabling true talent, giving these kids careers and the ability to earn a living through their music," Kinane says. "And it would be fantastic if they [became] a household name!"
Shortly after Hollywood Week, contestants again face the judges for the Showcase round—where 50 hopefuls perform in front of an audience before the judges cut the batch to 24. During a particularly good performance, the three judges shake hands, congratulating each other on the find. Other performances prompt standing ovations and sing-alongs.
The ultimate goal of Team Idol is to entertain viewers while not straying too far from what works. "One of our main priorities is maintaining the heart and soul that has made this franchise a success," Seacrest says. "American Idol is a show about dreams coming true—who doesn't want to watch that?"
American Idol, Season Premiere, Sunday, March 11, 8/7c, ABC