The 'American Idol' Team on the Quest for a New Superstar
Less than two years after its series finale, American Idol is back on ABC this March.
Though the show has made a splash with its new judges—superstars Katy Perry, Lionel Richie, and Luke Bryan—longtime host Ryan Seacrest insisted during the show's Television Critics Association panel things aren't that different. "The show at its core works…to change [it] would be a mistake."
As the judges settle into their new roles, they're embracing the challenge of finding the next superstar…and their own style. "No one is here to say, 'I suck,' or something that is negative," Perry said. However, she noted she is the toughest: "I'm blunt, but I can't be mean because I'm a woman."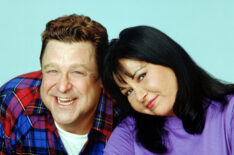 See Also
A new year brings even more highly anticipated revivals of familiar favorites.
"We know how to critique talent," added Richie. I consider myself the instructor."
Bryan, who turned down prior TV opportunities, is finding himself swept away on the journey the series has taken him on so far. "I'm there on the emotional ride with these kids," he said. "I get wrapped up in the pageantry and the dreams coming true."
And though the show has had a lack of superstars in its recent years, the judges this year are determined to find one this season. "We are wasting our time if we don't find a star," Perry said. "They need a real, legit American Idol."
American Idol, Season Premiere, Sunday, March 11, 8/7c, ABC