'Showtime at the Apollo': Steve Harvey Describes His Homecoming
No, the toughest talent show judge isn't Simon Cowell. It's the crowd watching performances on Showtime at the Apollo. "The audience lets you know if you belong in this business," says Steve Harvey. He and former Cheetah Girls singer Adrienne Houghton cohost Fox's new weekly reimagining of the famed 84-year-old amateur-night competition held in New York City.
Each episode, hopefuls hungry for stardom akin to that of past winners (think Michael Jackson) perform songs or do stand-up comedy. Then the Apollo audience's thunderous applause or vicious boos determine who heads home and who wins the night. (All the victors face off in the finale.) "Nothing is more daunting than walking out on the Apollo stage," says Harvey. "I've never met anybody who came out who wasn't nervous."
See Also
The variety series' co-host has a personal connection to the legendary Apollo Theater.
He should know. Harvey began his career hosting Apollo in 1993, and he was welcomed back warmly. "It's a humbling homecoming," he says. "One time I was taping the show and the applause was so long it brought tears to my eyes." If only the contestants were so lucky.
Showtime at the Apollo, Series Premiere, Thursday, March 1, 9/8c, Fox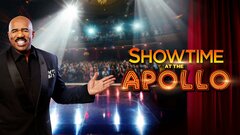 Powered by