Adrienne Houghton Takes Us Inside Fox's Revived 'Showtime at the Apollo'
After a series of successful specials, Fox has promoted Showtime at the Apollo to a weekly series. Funnyman and Apollo legend Steve Harvey returns as the series' host, with singer and co-host of The Real (the daytime talk show syndicated on Fox networks) Adrienne Houghton serving as his co-host and backstage correspondent.
TV Insider caught up with Houghton, who shares, "It's so crazy to be a part of such an iconic show, and I'm so excited for everyone to watch!" The TV personality also reveals what she's discovered backstage and shares her personal connection to Harlem's famed Apollo Theater.
You're a New Yorker; what does the Apollo Theater mean to you?
Adrienne Houghton: The Apollo Theater means everything to me. Crazy enough, I actually performed at the Apollo Theater when I was 14 years old. That for me was one of the greatest memories of my life. And to be back there at the theater watching other young talent get their start there, on such an epic and iconic stage is insane. I'm so excited to be a part of it.
What do you remember performing on the Apollo stage when you were 14?
I remember recognizing that they will boo you if they don't like you. At the same time, I think it actually reinforces the fact that you have to believe in yourself more than anyone. I think that, even with stories of people like Lauryn Hill being booed off the stage, but she didn't give up there. I think that, although it's a tough crowd, it actually sets you up for what this industry is really like.
What are some of the traditions that you're maintaining on Showtime at the Apollo, and what's new?
We are maintaining the Tree of Hope. The fact that you have to rub the Tree of Hope before you get on the stage, that is the same. Another thing that is the same is that if you get booed the Sandman will come out and dance you right off the stage. But we have a new Sandman, and he's awesome. It was really important to keep tradition of not having judges. The audience is the judge and it's an authentic reaction to they love you or they don't.
Probably the biggest change in the show is my role of actually getting backstories on who these people are and finding out: Where do they come from? What's their story? What drives them? What makes them passionate about what they do? Why are they here today? Why does the Apollo Stage mean so much to them?
Steve Harvey has such a personal connection to the Apollo Theater. What advice has he shared with you about you bringing your personality to this series?
I love that he literally was just like, 'Have fun with it. Have fun with it, and get to know these people.' I love how personal my role is in this. It's not so much like, I've gotta be out there giving a lot of showmanship, it's more like connecting with these parents, with the actual artists that are there. That's what I love to do. I love, love, love getting to know people. I love cheering people on.
You've been in the same shoes as these contestants. How are you using your Apollo experience to calm them down and get them ready to shine?
I joke around that my talent as a motivational speaker is now at a whole new level. I'm the one back there saying, 'Stay calm. You've got this, don't be nervous.' A great thing to tell somebody is, 'Believe in yourself, it's going to work out the way it works out.' And I think the most important thing I telling them is that getting onto the Apollo Stage, and the exposure you get, is winning in itself. You're winning regardless. You're at the Apollo Theater, you're doing your talent, and I think that I help remind them that regardless of what happens, already won.
What's at stake for these contestants?
In the winner of each episode goes on to compete at the end of the season. And whoever wins the finale gets to have their own show at the Apollo Theater with full production. It's going to be absolutely insane. Obviously, the exposure you get from being the winner of Showtime at the Apollo is amazing.
Who's more nervous, the performers or their families?
Both! Honestly, if it's a young person their parents are shaking. Literally, I might have to hold the parents hand and say, 'it'll be okay, calm down.' There are tears, sometimes if the kid has choreography, the parent is back there doing the dance moves, watching the screen. It's awesome; their child has a dream and they want to see their kid's dream come true.
Why is Showtime At the Apollo so much fun for families?
This is so crazy, and I have to share it. My family came to visit me while we were shooting and they sat in the audience and loved it. They loved the idea that they could be the judges. If you loved someone's performance, you scream and you shout. If you don't, boo them off.
At one point, I was sending people out, and my acts kept getting booed. I'm like, 'what is going on here?' Literally, the cameras panned to the audience, the audience booing, and I see my step-kids and my husband all booing! I'm like, 'what is going on here?!?' They get so into it, they keep it real. They are honest with you. They are telling you what they really feel and it can be super-interactive if you're watching it at home.
Not only are amateurs appearing on Showtime at the Apollo, but we're also gonna see big, huge, mega music stars. Who can you tease?
Wow, there's Pitbull, Fifth Harmony, Snoop Dogg, Boyz II Men; some of those people were part of the Christmas special as well. Flo Rida, Macklemore; so many incredible artists that are going to be performing.
How are you balancing your duties on The Real and Showtime at the Apollo?
I am loving life right now. I think it's such an honor to be on daytime Fox and prime time Fox. It doesn't get any better than that. I feel genuinely blessed. I love that I get to just be myself on television; it's so much fun and I'm just so grateful for the opportunity to be able to do it. I continue to love connecting with people.
Is there any possibility that we'll see any of these contestants from Showtime at the Apollo appearing on The Real?
I would absolutely love that, and obviously, when they announce who the winner is I would love, love, love to have him or her come on the show and perform. That would be insane.
Now that you've gotten to know the theater pretty intimately, is there anything backstage that made you say "wow"?
I'm obsessed with the staircase that we come on- and off- stage with—it's like a wall of fame. The walls are painted black, and literally, every single artist that has ever performed at the Apollo has put their signature on the wall.
It's unreal, and it's surreal when I'm standing in that staircase waiting for Steve Harvey to announce me; I'm just looking at names like Luther Vandross, The Jackson Five, and so many other incredible artists whose names are on that wall. So, I love, love, love that staircase from the main entrance on the right from the stage. The cool thing is that when professional artists come on, we have them try to find their original signature in all the mess. It's pretty cool.
Did you add your name to that wall?
I did! At the very end of the shooting, I actually got to sign the wall. I know exactly where that signature is.
How did it feel to add your name to the legacy of such hallowed grounds?
It was honestly such an honor. I just continue to pinch myself that I get to be a part of such cool projects like this and that I get to be a part of the legacy of Showtime at the Apollo, which is something I looked up to since I was a little girl. I would stay up late on Saturday nights to see the show, and I just can't believe that I now get to be one of the hosts.
Showtime At the Apollo, Thursdays beginning March 1 at 9/8c, Fox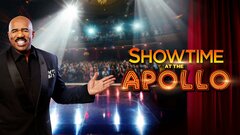 Powered by