'The Good Fight' Season 2 Uncensored Trailer: "Kill All the Lawyers" (VIDEO)
For anyone eagerly anticipating Season 2 of The Good Fight—the wackier, sexier, more foul-mouthed but equally as witty and smart Good Wife spinoff—the first look trailer should rev your engines.
In the clip, we learn a lot about the new season, premiering March on the streaming network CBS All Access. First, the luminous Audra MacDonald (Private Practice and Broadway) joins the show as Liz Lawrence, a new partner at the Chicago law firm that Diane Lockhart (Christine Baranski) joined after being forced out of her old company. Liz is also the ex-wife of the new firm's chief, Adrian Boseman (Delroy Lindo).
Next, the tempestuously-married Diane seems to have an affair, and the FBI goes hard after her protégé, Maia Rindell (Rose Leslie), to help them catch her Bernie Madoff clone father. Meanwhile, Maia's girlfriend seems to have betrayed her.
Also, we have ambitious associate Lucca Quinn (Cush Jumbo), who is forced to deal with her ex-lover, assistant D.A. Colin Morrello (Justin Bartha), in court. And someone, or more than one person, is taking Shakespeare's adage, "Kill all the lawyers!" quite literally.
All that and one very funny dig at The Good Wife's former home on the CBS very-censored network. Watch the uncensored preview below:
The Good Fight, Season 2 Premiere, Sunday, March 4, CBS All Access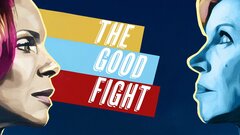 Powered by