John Oliver Celebrates his Harshest Critics in 'Last Week Tonight's Season 3 Promo Last Week Tonight is prepping its fans for its Valentine's Day return with quotes from those with the harshest words for John Oliver, from Donald Trump calling his show "very boring" to the Wall Street Journal arguing that Oliver "makes people dumb" to Cher tweeting that he has a "Wee (rat) Face."
If this is the final season, Fox co-chairman and CEO Dana Walden says creator Hart Hanson and his team "will be given plenty of time to start writing a meaningful ending to the show. They have such a loyal fanbase, and those fans deserve a satisfying ending." PLUS: Fox insists Bones' legal issues won't affect its future, and what about the future of Sleepy Hollow?
Kiefer Sutherland will still be listed as a producer on the new 24, which Fox says "will revolve around a military hero's return to the U.S. and the trouble that follows him back—compelling him to ask CTU for help in saving his life, and stopping what potentially could be one of the largest-scale terror attacks on American soil." PLUS: Jack Bauer's successor is expected to be black.
The original production team behind the 2005-2009 Fox series will be back, including creator Paul T. Scheuring.
The 83-year-old Osgood is in talks to end his two-decade run as host of the CBS News program.
Empire's third season episode order has yet to be determined, while Scream Queens will head to a new location for Season 2.
"It won't fundamentally change the show, it will just give it a little bit of spin," says Fox boss Dana Walden of the potential changes.
Curry, who played Dr. Frank-N-Furter in the original Rocky Horror Picture Show London stage production, will be the narrator for Fox's remake. Yearwood, meanwhile, will play Mary, the mother of Jesus on Tyler Perry's The Passion, with recording artist Prince Royce also joining the cast as the disciple Peter.
Did Bloom and her fellow interns talk behind Meyers' back? PLUS: Meyers gets a visit from "El Chapo," as played by SNL alum Horatio Sanz.
The 14-second teaser shows the entire cast.
Fallon followed up his mock job interview with Donald Trump on Monday with a mock job interview with Clinton. PLUS: Fallon and Sesame Street gang photobombs unsuspecting kids.
"I will be playing all the parts," Colbert said, "because every nominee this year is white." PLUS: Jimmy Kimmel mocks Matt Damon's Oscar nomination.
In a new promo, Aidy Bryant tells Driver Star Wars is her new favorite war.
Details of her role on the HBO series are being kept under wraps.
Under the Dome alum Kylie Bunbury will play a young female pitcher who makes it to the major leagues.
Each episode will be accompanied by an EP with music featured and inspired by each episode.
The half-hour series will crown the funniest person in the room.
Chris Carter, David Duchovny, Gillian Anderson and Joel McHale met with critics this morning, with Carter saying the revival is "an opportunity to show people that the show has more life to it."
They'll be part of a "big" arc.
Hagerty starred in the film and NBC TV series The Life and Times of Grizzly Adams based on mountain man James "Grizzly" Adams, starting in 1974.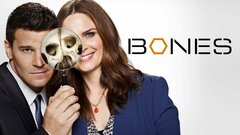 Bones
where to stream