'Castle Rock': Watch the Super Bowl Spot for Hulu's Stephen King-Inspired Series (VIDEO)
Hulu is using Super Bowl LII on Sunday, Feb. 4, to unveil the first television teaser for its upcoming series Castle Rock.
The drama, developed by Sam Shaw and Dustin Thomason, and which has J.J. Abrams as an executive producer, is set in the Stephen King multiverse of Castle Rock, the fictional town where many of the prolific author's stories have taken place. (The New York Comic Con trailer had previously revealed the show's Shawshank tie-in.)
Castle Rock stars André Holland, Melanie Lynskey, Sissy Spacek, Billy Skarsgård, Jane Levy and Scott Glenn. (Lost's Terry O'Quinn, who is featured in the teaser, is among the announced guest stars.)
In the 40-second Super Bowl spot, the mood is ominous. "I think that something terrible is going to happen," Lynskey's Molly says.
Check out the newest footage from Castle Rock below:
Castle Rock, Series Premiere, Summer, Hulu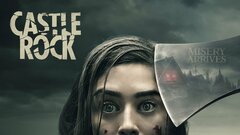 Powered by