'Homeland' Season 7: Carrie vs. Saul in the Fight to Save America
The first female American president is at the center of Homeland's seventh season, but the Showtime drama's central hero—bipolar former CIA agent Carrie Mathison (three-time Emmy winner Claire Danes)—isn't feeling the sisterhood. Fired from the White House, Carrie is on the outside and "trying to thwart President Keane, who she thinks is abusing her power and denying the people their civil rights," executive producer Alex Gansa says. "She feels our democratic institutions are at risk and that she must right the situation."
There's certainly plenty of evidence the commander in chief (Elizabeth Marvel) is flirting with unconstitutional actions. After the failed assassination attempt against her in last season's finale, Keane had 200 members of the intelligence community arrested, including Carrie's mentor, Saul Berenson (Mandy Patinkin). This season opens with a rushed military trial for General McClendon (Robert Knepper), the man Keane believes is behind the coup attempt. She demands his execution.
Despite Keane's bad behavior and the growing resistance that could spark a civil war, Gansa insists she isn't a villain. "Who wouldn't be a bit paranoid after an attack that came from within her government?" Marvel agrees: "There's a method to her madness. She needs to get back on her feet and regain some sense of control and power. Not to mention, as a woman having to navigate an administration and military mostly comprised of men, short-changing human rights is a price she must pay."
Eager to get the goods on Keane, Carrie turns to new ally Dante Allen (Morgan Spector), a colleague from her CIA stint in Afghanistan, who has incriminating info to pass along to the Senate Judiciary Committee. While she negotiates with the hesitant Allen, she'll more than miss devoted friend and partner Peter Quinn (Rupert Friend), who was fatally shot rescuing then-President-elect Keane. "That loss completely informs everything that Carrie does this season," Gansa teases.
Whether Saul will be able to, or indeed even want to, help Carrie bring down POTUS is yet to be determined. In the premiere, Keane's shady chief of staff, David Wellington (Linus Roache), secretly goes to the imprisoned longtime spy with an offer that could get him close to Keane in exchange for his release.
"Saul is a patriot," Patinkin explains. "He sees the government on fire and he's offered a chance to help it recover. To him, the assassination attempt literally tore the country's moral and ethical fabric." Though he'll ultimately work with an administration that Carrie wants to topple, he hopes at the end their goals are the same. "Carrie is someone Saul feels will make the country a safer, better place once his time is up," the actor says.
Others with more harmful ideas, however, will roam through this season's shattered landscape, playing on people's confusion, fear and anger, starting with alt-right conspiracy-spouting talk show host Brett O'Keefe (Jake Weber). With an arrest warrant out for him, the on-the-run O'Keefe calls his followers to rise up against an oppressive government, luring armed loyalists to his cause. Also look for Russia to play a part in the scenario. "When we met in D.C. with our intelligence sources for our annual research meeting [to develop ideas]," says Gansa, "three subjects kept coming up: a new, unpredictable president, Russian interference in our election and North Korea. North Korea won't be in the story."
Adds Patinkin: "No matter what takes place on Homeland, it won't be anywhere as scary as the times we are living in. We could use characters like Carrie and Saul in the real world."
Homeland, Season Premiere, Sunday, Feb. 11, 9/8c, Showtime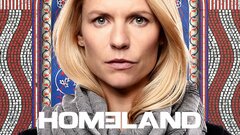 Powered by