Is a 'Friends' Reunion Movie in the Works? See the Trailer Going Viral (VIDEO)
Over 13 years after its series finale, Friends is still gaining new fans through reruns and streaming on Netflix.
Now, amid a sea of TV reboots—Will & Grace, Roseanne, Gilmore Girls—fans are left wondering where Rachel, Ross, Monica, Chandler, Joey and Phoebe are these days.
We have some good news and some bad news. The good news is that, yes, a Friends TV movie trailer is out there and has gone viral. You can watch it below and let the nostalgia wash on over you.
The bad news is that it's unfortunately not real. The fan-made trailer shows clips from different series and recent movies of the cast years later, expertly pieced together. The makers even threw in shots of New York City for added effect.
The demand is definitely out there—the cast has been asked many times through the years about a reboot or spinoff movie, à la Sex and the City, but they've always seemed hesitant.
Matthew Perry told Variety in June 2017, "I have this recurring nightmare—I'm not kidding about [Friends]. When I'm asleep, I have this nightmare that we do Friends again and nobody cares." He continued, "We do a whole series, we come back, and nobody cares about it. So if anybody asks me, I'm gonna say no. The thing is: We ended on such a high. We can't beat it. Why would we go and do it again?"
See Also
Four of the six original Friends are having another TV moment.
Jennifer Aniston expressed the same type of skepticism. She told the Thrive Global podcast in May 2017, "If Friends was created today, you would have a coffee shop full of people that were just staring into iPhones. There would be no actual episodes or conversations."
So, a revival won't be happening any time soon. But in the meantime, you can catch up on all 10 seasons currently streaming on Netflix.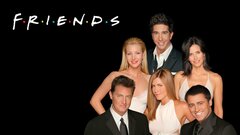 Friends
where to stream
Powered by