Lisa Kudrow Makes New Friends on 'Grace and Frankie'
The only thing constant in life is change. And on Grace and Frankie, that fact is celebrated in all its funny, messy glory—which is precisely what keeps this show so terrific and forever young. When Netflix's senior-centric comedy returns for Season 4, the landscape will be shifting yet again: Frankie (Lily Tomlin) has gone off to Santa Fe to be with her beau Jacob (Ernie Hudson), leaving Grace (Jane Fonda) behind in the La Jolla beach house. How to fill the void? Enter a new, ahem, "friend"—played by guest star Lisa Kudrow. Here, Kudrow talks about moving in.
You worked with Grace and Frankie's executive producer, Marta Kauffman, for a decade on Friends. Did she create this role for you?
I don't think she was looking for another way to work with me. She just called and said, "Would you do three episodes?" and I said, "Sure!" I like Grace and Frankie, I'd be working with Lily Tomlin and Jane Fonda…that's nothing but good things!
See Also
Netflix Somebody Feed Phil Series Premiere Friday, Jan. 12 Everybody Loves Raymond creator Phil Rosenthal's epicurean PBS travel show, I'll Have What Phil's Having, moves to Netflix wit...
How does Frankie react to the news that she has been replaced by Sheree as Grace's roomie?
She doesn't take to her at all! Frankie is really jealous. Sheree is a fun, sweet person and she has a nice way of pretending not to register the hostility.
Please confirm that the hot-pink Juicy sweatsuit worn by Sheree is from your personal archives…
No, it wasn't! The wardrobe designer was very excited about that outfit. Oh yeah, that'll be fun to look at myself in.
Any nerves about sharing the screen with two legends?
For sure! But it's almost as if part of their job description is to make whoever they're on set with feel really comfortable. They even messed up their lines, which I half think they did on purpose.
Fans have been clamoring for a Friends reunion ever since it went off the air. Given the reboot boom, are you tempted?
It's really funny, that's the one thing I didn't ask Marta about—there was too much else to catch up on that we didn't talk about the good old days or, "So…what are you thinking?" But obviously she's busy, and [co-creator] David Crane is working on other things. If it's not the six of us [actors] doing it with them, then what's the point?
Grace and Frankie, Available Now, Netflix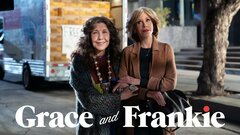 Powered by