'Hawaii Five-0': Grover Tries to Stop a Suicide in Powerful New Episode (VIDEO)
The team on Hawaii Five-0 is used to saving lives when bad guys are involved, but Friday's episode goes in a much more personal direction.
In the episode, titled "O ka mea ua hala, ua hala ia" (which is Hawaiian for "What is gone is gone"), a man (Devon Sawa) accused of killing his wife threatens to commit suicide, and Grover (Chi McBride) reveals that he knows more than a little about the hopelessness that the man feels.
See Also
Don't break out your dress robes and wands just yet.
In support of the episode and its message, CBS released the video below, which features McBride talking about the story. Also, at the end of the episode, McBride appears in a PSA for the National Suicide Prevention Lifeline to help anyone who may need help and someone to talk to.
Hawaii Five-0, Fridays, 9/8c, CBS.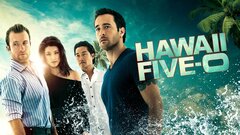 Powered by