Christmas Calendar: Holiday Movies, Specials, Classics, and Marathons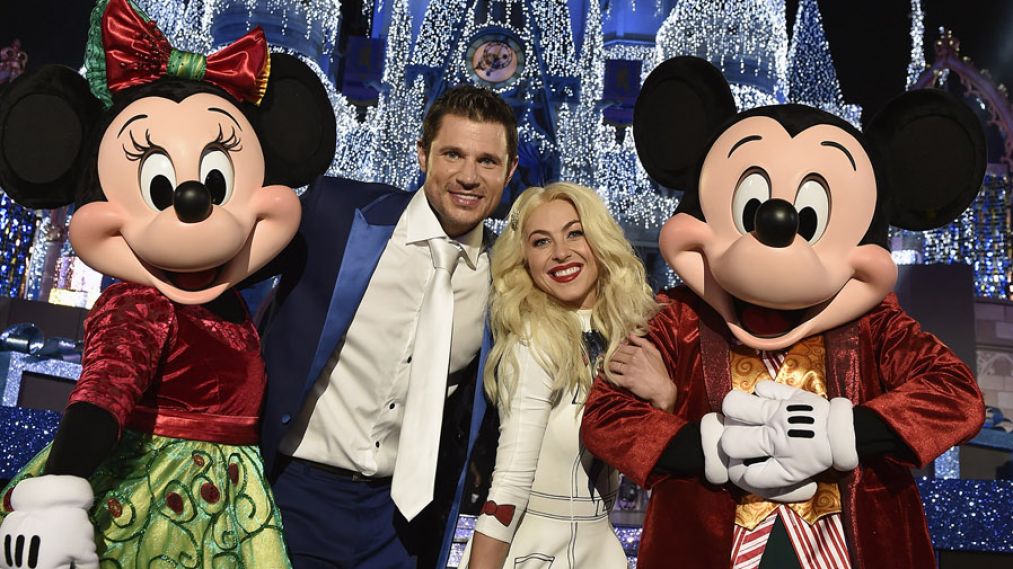 NOVEMBER
24
DreamWorks Trolls Holiday(NBC)
Finding Santa(Hallmark Channel)
Frosty the Snowman(CBS)
Frosty Returns(CBS)
Great Performances: Irving Berlin's Holiday Inn(PBS)
This adaptation of the 1942 movie musical has all the trimmings: spectacular dance numbers, lavish period costumes and Berlin's Oscar-winning chestnut, "White Christmas."
How the Grinch Stole Christmas!(NBC)
Santa Claus Is Comin' to Town(ABC, above)
25
The Christmas Train(Hallmark Channel)
Homicide for the Holidays(Oxygen)
Robbie the Reindeer: Hooves of Fire(CBS)
The Story of Santa Claus(CBS)
Wrapped Up in Christmas(Lifetime)
26
Christmas Solo(UP)
A Joyous Christmas(Hallmark Movies & Mysteries)
Snowmance(Ion)
Switched for Christmas(Hallmark Channel)
A Very Merry Toy Store(Lifetime)
Yes Virginia, There Is a Santa Claus(getTV)
27
Angry Angel(Freeform)
CMA Country Christmas(ABC)
A Very Pentatonix Christmas(NBC)
28
Drunk History Christmas Special(Comedy Central)
Rudolph the Red-Nosed Reindeer(CBS)
29
85th Annual Christmas in Rockefeller Center(NBC)
30
A Charlie Brown Christmas(ABC)
The Wonderful World of Disney: Magical Holiday Celebration(ABC)
It's merrymaking—with mouse ears!—as Julianne Hough, Nick Lachey and Jesse Palmer host. Ciara, Lea Michele and Jason Derulo perform too.
DECEMBER
1
Disney Parks Presents: A Disney Channel Holiday Celebration(Disney Channel)
Grandma Got Run Over by a Reindeer(The CW)
Masters of Illusion: Christmas Magic(The CW)
Illusionists conjure up seasonal sleight of hand. But who'll be the first to pull Santa out of a hat?
25 Days of Christmas Kickoff(Freeform)
2
Christmas in Angel Falls(Hallmark Movies & Mysteries)
Christmas in Evergreen(Hallmark Channel)
Four Christmases and a Wedding(Lifetime)
3
Christmas at Holly Lodge(Hallmark Channel)
The Magical Christmas Ornaments(Hallmark Movies & Mysteries)
Miss Me This Christmas(TVOne)
My Christmas Prince(Lifetime)
The Spruces & the Pines(Ion)
Teeny Tiny Christmas(Food Network)
12 Days of Giving(UP)
4
Christmas on Division Street(getTV)
The Great Christmas Light Fight(ABC)
95th Annual National Christmas Tree Lighting(Hallmark Channel)
The Wall Holiday Special(NBC)

5
Superstore Holiday Special(NBC)
Will & Grace Holiday Special(NBC)
7 The Great American Baking Show(ABC)
Johnny Cash Christmas 1983(getTV)
A Nashville Christmas(getTV)
Psych: The Movie(USA)
Shrek the Halls(ABC)
Toy Story That Time Forgot(ABC)
8
A Christmas Carol(TCM)
Scrooge(TCM)
9 The Christmas Cottage(Hallmark Movies & Mysteries)
Christmas Encore(Hallmark Channel)
Christmas in Mississippi(Lifetime)
Frosty the Snowman(CBS)
Frosty Returns(CBS)
Rudolph the Red-Nosed Reindeer(CBS)
Runaway Christmas Bride(Ion)
The Santa Clause(Freeform)
10
Christmas Princess(UP)
It's a Wonderful Life(USA)
Karen Kingsbury's Maggie's
Christmas Miracle(Hallmark Movies & Mysteries)
Madam Secretary Holiday Episode(CBS)
Miracle on 34th Street Marathon(Sundance)
A Royal Christmas Ball(Ion)
Sharing Christmas(Hallmark Channel)
You Can't Fight Christmas(TVOne)
11 Disney's Fairy Tale Weddings: Holiday Magic(Freeform)
11
Superior Donuts Holiday Special(CBS)
12
Bull Holiday Special (CBS)
Greatest Holiday Commercials Countdown 2017(The CW)
Gwen Stefani's You Make It Feel Like Christmas(NBC)
In her first holiday special, Stefani belts out classics like "Jingle Bells," "Silent Night" and "Santa Baby."
NCIS Holiday Special(CBS)
The Nights Before Christmas: Scrooged(AMC)
14
The Big Bang Theory Holiday Special (CBS)
Disney's Prep & Landing(ABC)
iHeartRadio Jingle Ball 2017(The CW)
Showtime at the Apollo: Christmas(Fox)
Taraji's White Hot Holidays(Fox)
15
Alaskan Bush People Holiday Special(Discovery)
Hawaii Five-0 Holiday Special(CBS)
The 86th Annual Hollywood Christmas Parade(The CW)
MacGyver Holiday Special(CBS)

16
A Christmas Cruise(Ion)
Christmas Next Door(Hallmark Channel)
I Want a Dog for Christmas, Charlie Brown(ABC)
Miracle on 34th Street(AMC)
Rocky Mountain Christmas(Hallmark Movies & Mysteries)
Snowed-Inn Christmas(Lifetime)
17
Christmas Connection(Hallmark Movies & Mysteries)
A Christmas Story Live!(Fox)
NCIS: Los Angeles Holiday Episode(CBS)
Romance at Reindeer Lodge(Hallmark Channel)
18
Decorating Disney: Holiday Magic(Freeform)
Gingerbread Giants(Food Network)
Kevin Can Wait Holiday Episode(CBS)
Scorpion Holiday Episode(CBS)
The Simpsons Christmas Week(FXX)
19
A Home for the Holidays(CBS)
Prep & Landing: Naughty vs. Nice(ABC)
20
Elf(Freeform)
A Special Edition of 20/20: Christmas Cribs(ABC)
The Top 12 Greatest Christmas Movies of All Time(The CW)
21
A Saturday Night Live Christmas Special (NBC)
Let's Make a Deal Holiday Episode(CBS)
Life in Pieces Holiday Episode(CBS)
Mom Holiday Episode(CBS)
White Christmas (AMC)
22
The Bold and the Beautiful Holiday Episode (CBS)
The Dick Van Dyke Show: Now in Living Color! (CBS)
I Love Lucy Christmas Special (CBS)
23
Christmas Getaway(Hallmark Channel)
Christmas on the Set(Sundance)
Hit rewind on the celebrations of yesteryear with holiday episodes from M*A*S*H, The Andy Griffith Show and The Mary Tyler Moore Show.
24
Christmas Eve Mass(NBC)
How Murray Saved Christmas(NBC)
It's a Wonderful Life(NBC)
24 Hours of A Christmas Story(TBS, TNT)
25
Babes in Toyland(TCM)
Call the Midwife Holiday Special(PBS)
Christmas With the Duke marathon kicks off With Big Jake(AMC)
Christmas Movie Marathon(Sundance)
Disney Parks Magical Christmas Celebration(ABC)
Doctor Who: Twice Upon a Time(BBC America)
Before the 12th doctor (Peter Capaldi) can bid farewell, he'll have to face up to the ghosts of Christmas past.
How the Grinch Stole Christmas!(NBC)
When Calls the Heart: The Christmas Wishing Tree(Hallmark Channel)
The Young and the Restless Holiday Episode(CBS)