Dermot Mulroney Rides 'The Christmas Train' in Hallmark Channel's Hall of Fame Flick
It's not every day that you get to ride a train decked out with lights and ornaments, and Dermot Mulroney (Shameless) was more than willing to climb aboard Hallmark Channel's latest Hall of Fame film The Christmas Train (November 25) to check it out.
"I stepped on the set, and I was like, 'Holy cow! This is the most Christmas-y train I've ever seen,'" Mulroney exclaims. "It really exemplifies Hallmark and their heartwarming holiday entertainment. And it's a beautiful movie. We shot it on real trains, every aspect of it, and then they just cut it together and added snow."
The Christmas Train follows former globetrotting journalist Tom (Mulroney), who is assigned what he considers to be a puff piece – writing about a holiday-themed Christmas train. His life quickly gets a lot more interesting when he runs into his former flame Eleanor (Kimberly Williams-Paisley) on board.
See Also
It's the most wonderful time of the year, which means there are plenty of holiday TV movies to watch! Check out this complete list and schedule of Hallmark Channel films.
You wouldn't expect Hallmark Channel's source material to come from a New York Times bestselling thriller writer, but David Baldacci's The Christmas Train is the holiday mystery/romance that Mulroney says will keep viewers on their toes.
"Once I learned that Baldacci's work is usually mystery and thrillers, it made more sense as to why this movie is so rich, because each of the characters has something that the other passengers and the audience will learn about them," he explains. "There's a little adventure, there's a mystery afoot on board, but all of that is wrapped around the notion that sometimes the journey is the destination and who you really are will be revealed. It's reveal upon reveal and then, the end of the movie, the final plot twist, it's 100 percent completely unexpected."
And for those admirers of the book, Mulroney promises, "Fans of the novel will be thrilled."
In addition to excitement and mystery, The Christmas Train keeps the main element of Hallmark films that keep viewers coming back every time: the romance. Eleanor and Tom, a pair of romantically-entwined war correspondents reunite via mutual connection Max Powers (Danny Glover). "They worked together, fell
in love, and it was the real deal," Mulroney explains. "But because they were stretched out over deadlines and schedules, they just didn't make it. The story starts many years after their heart-wrenching breakup, and lo and behold, there she is on the train." Mulroney adds: "We'll see what happens, but things are looking pretty good that they're going to work something out." What would a Hallmark Channel movie be without it's happy ending after all?
And Eleanor isn't the only interesting traveler Tom encounters. Agnes, played by Joan Cusack, is "a somewhat mysterious character," according to Mulroney that also provides some lighthearted comedic support. "Turns out, she's always on the train and she seems like she's just a super nosey neighbor. Her little sleeper cabin is right next to Tom's, so they keep bumping into each other."
Mulroney loved his time on The Christmas Train so much, he even wrote a song about it called, you guessed it, "Christmas Train."
"I was so taken with the idea of something so simple with just fundamental elements, like a train and Christmas being put together, that I thought it sounds like a good, old-fashioned country song," he explains.
You can listen to Mulroney's crooning on iTunes, and keep your ears peeled for a snippet in the background of The Christmas Train as well.
And this isn't Mulroney's first rodeo – he also starred in Hallmark Channel's 2015 flick, Northpole: Open for Christmas as a single father/handyman.
"I didn't really know about the universe of Hallmark until I did one of their movies," he says. "And once you're in, you recognize the real value of making movies like this. You know tons of people are going to see it and they're going to love it. I'm used to making movies that I hope people get, that they like, and that the studio will put enough behind it for people to go see it, but none of that's in play here. So it's a wonderful sort of risk-free environment, which is hard to come by. It takes a whole level of pressure off, and then you can just be good."
The Christmas Train, Saturday November 25, 8/7c, Hallmark Channel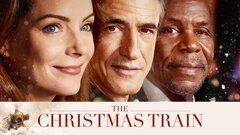 Powered by