WATCH: First-Look Scene From BBC America's 'Doctor Who' Christmas Special
On Friday, BBC America revealed a first-look scene from the highly-anticipated Doctor Who Christmas Special, Twice Upon a Time. The clip comes just in time to get fans in the holiday spirit.
In the short clip, the First Doctor thinks the new TARDIS looks 'hideous,' and the two old men bicker, of course. Let's hope it's not a cranky Christmas.
The special stars Peter Capaldi in his final appearance as the Twelfth Doctor, David Bradley as the First Doctor, Pearl Mackie as Bill Potts and Mark Gatiss as the Captain. It will also introduce Jodie Whittaker as the Thirteenth Doctor.
See Also
Whittaker plays the Thirteenth Doctor and is the first woman ever cast in the iconic role.
Watch the sneak peek below:
Doctor Who: Twice Upon a Time, Christmas Day, BBC AMERICA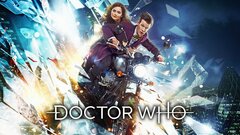 Powered by