First Look: Fox's 'A Christmas Story Live!' Promo Art and Casting News
Fox has released its first teaser artwork for the Dec. 17 live holiday spectacular, A Christmas Story Live! and TV Insider has snagged the first peek!
In the poster, The Old Man's Major Award shines out the window of the Parker family's house. The iconic piece of houseware sends its warming glow out into the chilly winter's night.
Take a Look!
To quote Ralphie from the 1983 movie, "Only one thing in the world could've dragged me away from the soft glow of electric sex gleaming in the window," but in this case, it's not a favorite radio program, it's casting news from A Christmas Story Live!
The holiday special has already announced much of its blockbuster cast, with Maya Rudolph starring as the story's beloved Mother, Matthew Broderick lending his voice as the story's narrator, Chris Diamantopoulos as Old Man Parker, Jane Krakowski as Ralphie's teacher Miss Shields and Ana Gasteyer playing the mom of Ralphie's pal, Schwartz. Newcomer Andy Walken has snagged the role of Ralphie Parker, and the adorable video of him getting the good news quickly went viral.
But now, TV Insider is pleased to announce that the role of little brother Randy Parker will be played by young actor Tyler Wladis.
We can't wait to see how this tiny talent handles lines like "Meatloaf, smeatloaf, double beatloaf, I hate meatloaf" and "I can't put my arms down!"
A Christmas Story Live, Sunday, Dec. 17 at 7/6c, Fox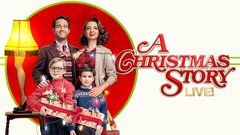 Powered by