First Look: 'The Librarians' Face a New Foe in Season 4
When TNT's crime-stopping, world-saving geniuses of The Librarians return for Season 4 on December 13, they'll have a new big-bad standing in their path. That baddie is being played by John Noble—who we are sure will please fans after seeing his devilish run on Sleepy Hollow.
Noble plays Monsignor Vega, a Vatican bishop who secretly heads a centuries-old sect called the Heretical Order of the Shadows. This sect aims to return life to the Dark Ages so that religion will have power over the masses once again, but to do that they must destroy the most powerful source of wisdom and enlightenment: The Library.
In the season opener, the HOS discovers a secret map which contains the four cornerstones of the Library of Alexandria (you know, the original library that they're always going on about?).
Flynn (Noah Wyle, who recurs in seven of this season's 12 episodes) and the Librarians must find a way to stop the sect before they throttle the world back into ignorant darkness. But they will have the help of an unexpected ally.
Take a look at Noble's Monsignor Vega below and let us know what you think about the next big threat to the Library!
The Librarians, Season 4 Premiere, Wednesday, Dec. 13, 8/7c, TNT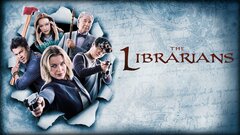 Powered by