6 Things We Learned From 'The Librarians' New York Comic Con Panel
TNT's mismatched heroes known as the Librarians have fought supernaturals, literary villains come-to-wicked-life and the Egyptian God of Chaos. In Season 4 of the magical adventure series, however, executive producer Dean Devlin told TV Insider after his New York Comic Con panel that our heroes may soon be checking out of the Library.
"They'll challenge their employer. The Library has not been honest with them about a lot of things," Devlin says. "Why is it hiding the truth from them? The Librarians are making enormous sacrifices for the Library and they're not sure it's an organization they want to be a part of!"
Here are some more tidbits gleaned from The Librarians panel—Christian Kane (Jake) and John Harlan Kim (Ezekiel) joined Devlin—and exclusive interviews on Thursday.
1.The show's been moved to Wednesday at 8/7c. The season premieres with two back-to-back episodes—the second is a Christmas storyline—on Dec. 20.
2.When the Season 4 of The Librarians opens, in a joint ceremony, Flynn (Noah Wyle) and Eve (Rebecca Romijn) are tethered to the Library in the same the way Charlene (Jane Curtin) and Judson (Bob Newhart) were. And like them, they become immortal.
3. The show's devoted fans get some love in an episode when a fan of one of the Librarians switches bodies with the object of his affection . "We'll see the show through a fan's eyes," Devlin teases.
4. Eziekel's family shows up. "Let's just say that his upbringing has really influenced the way he's lived his life," Kim tells TV Insider. Hint: they're a den of thieves. For the first time, we also get to see Ezekiel "in all his glory, stealing something," confides Devlin.
5. Guest stars this season include Richard Kind (Gotham, Spin City), Nora Dunn (Saturday Night Live, Enourage) and Steven Weber (NCIS: New Orleans. Wings). Rachel Nichols (Continuum, Chicago Fire) reprises the role of Library employee Nicole Noon from Quest for the Spear, the first movie in the Librarian franchise. (Sonya Walger originally starred in the role.)
6. Devlin's been one busy producer. He showed the NYCC audience clips of upcoming movies Bad Samaritan, a thriller with David Tennant and Robert Sheehan; climate change disaster film Geostorm; and LBJ with Woody Harrelson as Lyndon B. Johnson. Plus, Devlin, who was a producer on the original Stargate movie announced he's working on The Outpost, a new sci-fi TV series, with Jonathan Glassner, the co-creator of the Stargate TV franchise.
The Librarians, Season Premiere, Wednesday, Dec. 20, 8/7c, TNT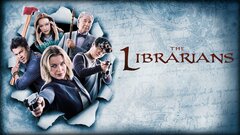 Powered by