'Search Party' Co-Creator Hints Season 2 Is a 'Whole Lot Darker'
The hunt for their friend may be over…but now aimless Dory (Alia Shawkat) and her millennial pals have a dead body on their hands. TBS's hipster-skewering comedy, Search Party, took a dark turn in its first-season finale when Dory's obsession with finding Chantal (Clare McNulty), a missing girl she kinda knew in college, led her clique to Canada, where they accidentally killed a PI (Ron Livingston) on the case.
Season 2 picks up immediately after, with Dory, gay bestie Elliott (John Early) and ex-boyfriend Drew (John Reynolds) desperate to conceal the corpse from Chantal and their flighty friend Portia (Meredith Hagner), who are both unaware of the death. But with a secret that big, "They can't just go back to normal First World things like shopping or having brunch," says series co-creator Charles Rogers.
See Also
Season 2 of the mystery-comedy has more of a Hitchcockian vibe.
Instead of sipping Bloody Marys, they're burying a body. "Things get a whole lot darker, but in a lot of ways, funnier too," says co-creator Sarah-Violet Bliss. Just watch for Elliott's tantrum as he struggles to dig a hole in the woods under the cloak of night. "The characters cope with this stuff in a way that is fun to watch," Bliss adds.
Getting on with their lives will require the conspirators to lie to themselves—something at which the self-absorbed twentysomethings excel. "The big theme of Search Party is denial," says Rogers. "Now the question is, What does denial look like when you do something terrible?" Unfortunately for the group, they can't completely delude themselves into forgetting their misdeed: "There are looming threats from people who may know what they've done," Rogers hints. Dory, in particular, may be in over her head. "She wanted an exciting and interesting life," Bliss says. "Now she has it, but it's not what she hoped it would be."
Search Party, Season Premiere, Nov. 19, 10/9c, TBS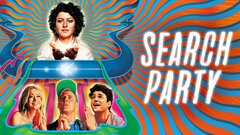 Powered by