5 Reasons to Watch the Second Season of 'Search Party'
TBS' Search Party is getting ready for its second season premiere on November 19, and the trailer (see post below) seems like a confirmation that the show is only going to get better.
The Season 2 premiere picks up right where the series left off at the end of Season 1, with Dory still in shock about what her search for Chantal set into motion. The shocking ending from Season 1 is the driving force behind the new season, and it is exactly what Search Party needed.
But in case you still had doubts about tuning in, here are 5 reasons why the second season might be even better than the first.
See Also
We know what they did last season.
1. The darker tone
You can't murder someone and expect things to stay the same, which is why it is fascinating to see Search Party go down a much more Hitchcock-inspired path. Nothing is as simple as it used to be, and no one from the group is still dealing with meaningless problems. Killing Keith (Ron Livingston) means they have to deal with the body, including having to get rid of it before anyone catches them with it.
There is really nothing more terrifying than digging a grave in the woods at night, yet it looks like this is all just the tip of the iceberg for Dory (Alia Shawkat), Drew (John Reynolds), Elliott (John Early), and Portia (Meredith Hagner) who are now constantly watching their every move.
2. The characters
Search Party hit the chemistry jackpot with its main core group of friends that play off each other so well. Both together and apart these characters stand out because they aren't your typical millennials. They made you care about them in Season 1, and now they will have you worried about where they are headed next.
Dory, Drew, Elliot, and Portia are now tied together even more than they were before—but is that a good thing? There were moments in the previous season where you were rooting for each individual friendship in that group, but maybe this time around it will be more entertaining to see how they interact with one another after what they all had to do. The guilt is guaranteed to bring out different behavior out of all the characters.
Meanwhile, Julian (Brandon Micheal Hall) comes back into Dory's life again a whenever Julian is around it is like his journalistic skills pull the truth out of people. Then there's Chantal (Clare McNulty) who suddenly seems to be everywhere now that she is no longer missing.
3. The diversity
The ability to offer diversity within a series in an effortless way can be a challenge, but Search Party seems to be up for it. Their female lead is a woman of color, one of their lead male characters is gay, and there are plenty of characters that pass through that all have a lot to offer. These characters and the representation feels realistic and almost effortless because the focus isn't on making the show appear diverse, which is probably why it does.
Last season there was even a moment between Julian and Elliot that made me wonder if that was a quiet confirmation that Julian is queer, and I am really hoping that sees the light of day this time around.
See Also
This TBS comedy focuses on the way millennials 'defend themselves by not caring,' says Michael Showalter.
4. The humor
Search Party would be a drastically different show if it didn't let humor drive the story forward. Allowing the characters and the situations to be absurd at times is what made the show such a delight. This is exactly why, with Season 2, the humor is better than ever, making sure that the bad stuff that happened doesn't make everything more depressing.
Elliot, specifically, is the one who proves with his humor that even though everything has changed, in a way it is all still the same when it comes to how they all handle situations and the ridiculous ways they cope. The true constant of the show is the dark comedy aspect that is always turned up extremely high.
5. The mystery
Just like last season, there are plenty of questions this time around, including another note from someone who knows what they did. Search Party works best when there is an unknown looming over them, which is exactly what is set up for them at the end of the season premiere.
There was a Nancy Drew aesthetic while Dory was looking for Chantal which felt nostalgic and refreshing. This time around there is more of a Hitchcock vibe being created throughout the season (a few of the season's episode titles, like "Suspicion" and "Frenzy," even reference the titles of some of the Master of Suspense's film classics), and it looks even better because the stakes are now much higher.
Search Party Season 2 Premiere, Sunday, Nov. 19, 10/9c, TBS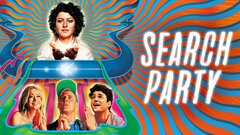 Powered by