'Full Frontal': John Kelly Is the New Ivanka (VIDEO)
In these troubling times, when Washington, D.C., increasingly seems like a very, very scary place, it's understandable that a lot of us are desperately looking for a hero. And in our frantic search for someone to relieve our constant anxiety, we've…made some mistakes. But we learned our lesson, right?
Nope. We fell for it again. John Kelly is the new Ivanka, and as Samantha Bee reminded us on Wednesday night's Full Frontal, we cannot keep putting our faith in these kind of OK white people.
The man who was supposed to be the "adult in the room," the general who was supposed to whip the West Wing into shape, showed his true colors earlier this week when he appeared on the premiere episode of conservative harpie Laura Ingraham's new Fox News disinformation fest.
"John Kelly, how could you talk like this?" Bee asks. "You were supposed to be the one we didn't have to watch like a hawk! You were supposed to be the hawk!"
Well, turns out Kelly has always been a racist jerkhole. But we'll let Bee do the fem-splaining. Check out the clip below.
Full Frontal with Samantha Bee, Wednesdays, 10:30/9:30c, TBS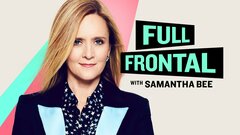 Powered by