WATCH: The 'Full Frontal' Team Delivers 4 Tales of Washington Terror for Halloween
So you blew through all the episodes of Stranger Things this weekend, and now you don't have anything really scary to watch while the kids are out trick-or-treating. Well, Samantha Bee and the Full Frontal crew have a few spooky treats to chill your bones.
Just in time for Halloween, the show's correspondents spin four terrifying tales of the blood-curdling goings-on inside the White House—as if the news out of Washington wasn't scary enough these days!
Dim the lights as Allana Harkin tells of the Supreme Court nominee who disappeared under suspicious circumstances!
Let Ashley Nicole Black tell of the healthcare repeal that wouldn't die!
Mike Rubens will make your blood run cold with his story of the slimy creatures that have slithered away from 1600 Penn.
And the lying ghoul who haunts Amy Hoggart's tale of the White House briefing room will keep you up well past midnight!
Full Frontal with Samantha Bee, Wednesdays, 10:30/9:30c, TBS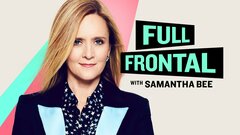 Powered by