'Vanderpump Rules' Kristen Doute Is All Grown Up (for Real)
The cast of Vanderpump Rules—the reality series about the beautiful (and dramatic) waitstaff of LA hotspot Sur—is gearing up for a fourth season of beers and tears, perhaps none more so than resident hell-raiser Kristen Doute. For the past two seasons, the 32-year-old has vigorously embraced the role of "crazy ex-girlfriend."  She's terrorized her ex Tom Sandoval, battled his current girlfriend Ariana Madix, slept with her pal's boyfriend Jax Taylor and managed to lose just about every friend she had along the way. But now, she swears, she's a bad girl gone good. We caught up with the waitress-turned-t-shirt-designer to see if a tigress can really change its stripes.
What trouble will you be up to this season?
Let's be honest, I'm always in a little bit of trouble. It's just my nature. But this is an extremely different season for me. I'm a very different person than I was. Seasons two and three [were] very tumultuous and very toxic, and I made a lot of mistakes and kind of shattered relationships and friendships. It really took a toll on me. So I did a lot of growing up in-between seasons three and four and really worked on myself.
What makes things different this time?
I hit rock bottom after last season. I started feeling like s—t knowing that all I had was my 23-year-old boyfriend [James Kennedy] by my side. I really missed my friendships, so it was a good wake-up call. There's only one way to go: up.
Last season you were fired from Sur. How do you fit into the show now?
James DJs at Sur and he was bussing there, so I would always go in there anyway. It doesn't really take me out of the situation because I still love and frequent Sur. I'll never stop loving Sur. But it was definitely better for everyone involved that I was not working there anymore.
What are you up to career-wise, then?
I own a t-shirt line called James May, so I was very fortunate to have [that] be my focus [on the show]. I love that they chose to follow that with me this season. [And] I'm still acting, of course, and I've been doing sketch comedy.
Wait, you're in an improv group?
Not improv. It's scripted sketch. We go to stand-up and sketch shows.
Do we get to see you training for that?
Actually, they filmed a show that I performed at.
Did your castmates come?
Yes, they did. That will be a very interesting episode because of the mix of who was there, which I won't reveal. But it will be the first time… it's kind of a little shocking, I think, of who ended up coming.
At the beginning of the season, we're going to see your relationship with James fall apart. Is that going to be hard to watch?
Clearly, we weren't the best match. I thought he and I were so great together, and he got me over Tom. That's how I look at it now. Is it going to be fun to see some tears and name-calling and fighting? It's never fun to watch that, but it's not going to affect me the way it used to.
And you're seeing someone new these days.
I am dating, yes. [Giggles] What I love about this season is, it's the first time that the fans get to see a single, happy Kristen—[I'm] much more independent than I ever was. But I am single throughout the season, though I do date some people.
In the promo, it looks like you're going to get into an altercation with this new girl, Lala Kent. What's going on there?
Well, she's not my favorite person in the world. I can definitely say that. I'll put it this way: I think Ariana is an angel in comparison.
In past seasons, it seemed like you were happy to be the villain. Is that fair to say?
I mean, "the villain" is just hilarious. I don't consider myself a villain, necessarily. But I'm also not dumb to the fact that I would try to fight battles that weren't mine and get involved in things that were really none of my business and kind of end up making things worse. I know that I have a really big mouth, and I know that I'm extremely unfiltered. So if those things made me the villain, then whatever. That's fine. I'll take it.
Are you happy with the way this season went down?
A hundred percent. I've never enjoyed a summer so much since we've been filming. I think [that's] because I've grown so much, and I tried throughout the whole season to kind of hold my breath when it wasn't my turn to talk and to just listen and not be so quick to react. So that just developed into a lot of positivity. I'm really, really excited to watch the season, and I've never said that before
Are viewers ready for the new Kristen?
Actions speak louder than words, so I think it's probably going to take them a little bit to accept. But I think over the course of a few episodes, I'm going to get them back on my side.
Vanderpump Rules, Season premiere, Monday, Nov. 2, 9/8c, Bravo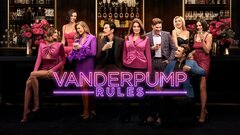 Powered by