'Crazy Ex-Girlfriend': Going the Extra Mile to Stalk Follow the One Who Got Away
Rachel Bloom puts a musical spin on that crazy little thing called love with the comedy Crazy Ex-Girlfriend. The 28-year-old creator/executive producer/actress plays Rebecca Bunch, a successful Manhattan lawyer who drops everything and moves across the country to the Los Angeles suburb of West Covina to pursue her childhood crush, Josh Chan (Vincent Rodriguez III). She also breaks out into song and dance quite frequently. Bloom, best known for her cheeky YouTube videos, like "F— Me, Ray Bradbury," takes us inside the mind of this unconventional girlfriend.
How much of this character is autobiographical?
Romantic obsession is one of the most universal drives in the world. Rebecca is acting how a lot of us do when we're in love. Love makes you feel crazy.
How would you describe Rebecca?
She's someone who has never made her own choices. I'm not saying she's a victim, but she has a very hazy sense of self. She's smart—she went to Harvard and Yale and got a job at a high-powered law firm—but also emotionally stunted. She's now in a period of crisis, so when she moves to West Covina, it's her first time pursuing her own happiness. She's finally taking her life into her own hands.
RELATED: 15 Fall Shows Ready to Make You Laugh
Why West Covina?
We wanted to make it a fish-out-of-water show, but everyone does small, podunk towns on the East Coast or in the Midwest. I grew up in Southern California, so when I think of a small suburb, I think of never-ending sun, racial diversity and everyone going to the same Applebee's. That aspect of mundane suburbia spoke to me. The one part of it that does not come naturally to Rebecca is the idea of SoCal "chillaxing."
How do you balance grounding the show in reality while also breaking into song multiple times per episode?
It's easy in that the musical numbers are all in her head, like Roxie Hart in the movie Chicago. So you can be heightened in musical numbers in a way that makes it more earned if you're really grounded and organic in the drama itself.
RELATED: More Editors' Choice Picks for Promising Shows | Visit Our Fall Preview Page
What's the biggest musical production you've filmed so far on the show?
There is a Bollywood number in Episode 2 in a unique location—and it's dirty.
You originally shot this pilot for Showtime before The CW. How much did you have to change?
We had to extend it a little because we've gone from a cable half hour to a network hour. There are certain words we couldn't say. But short of that, we're keeping the same loose, improvisational tone. We will be releasing explicit versions of the music videos should there be versions with more cursing!
What conversations have you had with The CW's Standards & Practices?
Oh, they've been fascinating. The perfect example is in "The Sexy Getting Ready Song." In the original version, I wax my butt and you see a lot—the backup singers sing "ass blood." In the cut version, we keep some of that in, but you just won't see the actual wax strip of hair. The CW is open to this dark and screwed-up show; they want to push it. So honestly, it hasn't been that much of a change because the show is about heartbreak and obsession, and that doesn't need to revolve around showing nipples.
https://www.youtube.com/watch?v=-ctFmXGm_yE
Crazy Ex-Girlfriend, premieres Monday, Oct. 12, 8/7c, The CW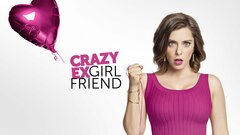 Powered by