What's Worth Watching: 'Crazy Ex-Girlfriend' on The CW for Monday, October 26
Crazy Ex-Girlfriend, "I Hope Josh Comes to My Party!" (Monday, Oct. 26, 8/7c, the CW)
A one-woman band of merrily infectious cray-cray, Rachel Bloom commits so fully to the wacky role of romantic obsessive Rebecca Bunch that even if you feel the best thing for all involved would be for Rebecca to be committed, the deranged delights of Crazy Ex-Girlfriend are such that you can't help wanting to spread the news. Even at the risk of being called crazy.
It's disappointing though hardly surprising to see the woeful ratings Crazy has endured in its first two weeks on the air. Originality is such a rare commodity on network TV, it's no wonder few know what to make of a show like this, especially as filtered through a subversively funny worldview like Bloom's, who's at her best in inspired fantasy music videos that satirize Katy Perry-style pop icons with their perky perversity. (Last week, Rebecca serenaded the yoga-master girlfriend of her crush, Josh, with a number that included lyrics like, "I wanna kill you and wear your skin like a dress, but then also have you see me in the dress." Eww, and whoa!)
In this week's episode, a few of her co-stars get to display their musical chops, including Donna Lynne Champlin as her co-worker and champion Paula, who urges Rebecca to stop the pity party and throw a real wingding, despite having the worst hostess-ing track record since Mary Richards. Paula's "Face Your Fears" anthem is both soaring and sublimely twisted, including entreaties to "Run with scissors" and "Swim right after eating." Later, as Josh (Vincent Rodriguez III) proves to be the life of the party, he morphs and clones himself into a swoony boy band just like Rebecca's adolescent favorite, Room Temperature.
There's no way to be lukewarm about Crazy Ex-Girlfriend. Maybe you'll hate it for being so extreme, but chances are you'll adore it for the same reason. (It's likely to be as polarizing as Ally McBeal back in the day, but to be truly polarizing, people would actually have to watch.) While I wait for the soundtrack, I know I'll stay tuned, in hopes more will follow. Crazy as it sounds.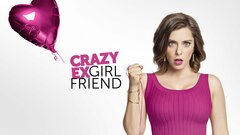 Powered by