What's Worth Watching: 'The Grinder' on Fox for Tuesday, October 20
The Grinder, "Little Mitchard No More" (Tuesday, Oct. 20, 8:30/7:30c, Fox)
The Grinder is shaping up to be this fall's "Best Show You're Not Watching" (along with Crazy Ex-Girlfriend, although the CW has a much smaller threshold), a gem of a comedy which reaped some of the new season's best reviews but has yet to attract much of an audience. Could it be the off-putting title, which refers to the ironically iconic title character of a fake TV law drama? Could it be the absurdly offbeat premise, which brings "The Grinder" aka preening actor Dean Sanderson (a winning Rob Lowe) back to his Idaho home and family after his show goes off the air? It surely can't be the performances, or the writing.
Under the delusion that he can practice law like his younger brother Stewart (a very funny Fred Savage), who represents the family firm, Dean finds "Grinder"-level drama in every situation, domestic or legal. The locals can't get enough of his act, and neither can Stewart's kids, or even the brothers' fawning dad (William Devane, inspired casting), and Stewart finds himself odd mensch out whenever he tries to wake anyone up to the craziness of the situation. "Can we please not use episodes of The Grinder to teach life lessons to my kids?" he pleaded last week, to little avail. When Stewart's young son was caught in a lie, Dean even praised the kid for his "acting."
In this week's episode, Stewart and wife Deb (Mary Elizabeth Ellis) learn about the "The Dean Effect," when it appears a new couple (Married's Nat Faxon and Alexie Gilmore) is befriending them only because of their proximity to the superstar Dean. The only person in Boise who appears immune to Dean's charms, besides Stewart, is wisecracking lawyer Claire (Natalie Morales). Can he win her over? For that matter, can The Grinder woo enough viewers to make it in the long run? As someone might say to the fictional Grinder, the jury's out, but if anyone can pull off a miracle, The Grinder can.
At least that's what he'd tell you.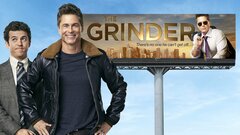 Powered by