'The Grinder': Rob Lowe and Fred Savage Lay Down the Law as Brothers
The faux court is in session this fall on the new Fox comedy The Grinder. After hot Hollywood actor Dean Sanderson (Rob Lowe) wraps up his stint as a successful attorney on the long-running television procedural The Grinder, he decides he has the chops to become a real-life legal eagle. So Dean moves back to his small Idaho hometown and inserts himself into the life of younger brother Stewart (Fred Savage) and the family law firm. We put television vets Lowe (The West Wing) and Savage (The Wonder Years) under oath to reveal the inner workings of comedy's newest dynamic duo.
How did this partnership come about?
Lowe: Who made us the Simon & Garfunkel of this fall's television schedule?
Which one is Simon and which one is Garfunkel?
Lowe: I leave that up to you. One of us is losing his hair and one of us isn't. That's all I'm going to say.
Savage: I have been mistaken for Rob Lowe more times than I care to admit. I feel like the television business finally caught up to what America was saying: that Rob and I were meant to be brothers.
Lowe: The two generations that have us on their lunch boxes met and they were like…
Savage: …we need to make this happen! So we are just giving America what they demanded.
RELATED: 15 Fall Shows Ready to Make You Laugh
How would you describe Dean and Stewart's relationship?
Savage: I think there's genuine love there. Stewart sees Dean as someone who is adored, admired, cheered and recognized—but that's something that he's never had. And Dean looks at Stewart as someone who is grounded, has roots, a home and a family who really loves him. They both really want what the other person has. It's what brings them together and what causes their rift.
Lowe: Dean is beloved by everybody, but the person that he wants most to love him is his brother. What Dean finds fascinating are the everyday travails that regular people have. In the second episode, Dean is obsessed with carpools. He f—ing cannot get enough of it, and it makes him lovable. He's not jaded;
he wants his brother to be a star too.
[jwplatform k32Wqkag]
You have both spent many years working in Hollywood. Have you come across people like Dean?
Savage: We have both encountered some people who play larger-than-life characters that they are not really playing at all. I think that's part of the territory, especially in what we do.
Lowe: I actually gravitate toward them, and maybe I'm becoming one of those people. We know there are people in every line of work who are legendarily entertaining, charismatic raconteurs, and I love people like that.
So how much of Dean resonates with you, Rob?
Lowe: I knew the guy cold. This is an opportunity for me on a weekly, hourly, minute-by-minute basis to make fun—lovingly—of all the foibles of this business in a way that is really relatable and not inside baseball.
What's it been like filming The Grinder legal show within the show?
Lowe: It's the absolute greatest. In every Grinder episode, you will see the [fake] Grinder TV series, and that will inform whatever theme that episode is about. It was a good opportunity for Dean to experience being on a show that [most actors] dread being on. He would have liked maybe some more Emmy awards than People's Choice awards, but he can't quibble.
Savage: Nine seasons is nine seasons. You can get a lot of trophies but only run for two seasons.
Lowe: That's true. Dean starts referring to The Grinder as "the mothership" because there is Grinder: New Orleans and it may or may not star Kiefer Sutherland. It's much more violent and much more critically acclaimed, which does not make him happy. But [that spinoff has] none of the ratings that the mothership got.
When people hear the title The Grinder, many think of the dating app. Are you sick of that comparison?
Lowe: No, it's genius. We love it!
Savage: I hope there's no confusion. I hope that people don't tune in to Fox on Tuesdays at 8:30 expecting…
Lowe: …us to be having sex together.
Savage: Yeah. I don't think there's a lot to clarify, but if you think that, your mind is in the gutter. You've got to be ashamed of yourself!
Lowe: There's a lot of grinding to be done. Just being able to say "Let's grind." The title is the gift that keeps on giving.
Savage: The writers consciously chose that name because it's supposed to be ridiculous and aggravating.
Lowe: It's almost as aggravating a title as Numb3rs. Numbers? Or whatever the f— it was. I used to call it Num-Three-Ers. Like, really? We're really going to sit here and say that The Grinder is the worst title on television? We're really going to have that conversation with Num-Three-Ers?
RELATED: More Editors' Choice Picks for Promising Shows | Visit Our Fall Preview Page
https://www.youtube.com/watch?v=Zz0cvThoyT8
The Grinder, premieres Tuesday, Sept. 29, 8:30/7:30c, Fox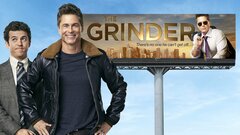 Powered by