ABC Family to Rename Itself "Freeform" This January
ABC Family is getting a name change.
The Disney-owned network will be rebranded as "Freeform" starting in January 2016. The change comes after ABC Family, under president Tom Ascheim, spent the past year researching a switch.
ABC Family settled on the name Freeform from a pool of around 3,000 contenders. The name was chosen after being tested with a focus group of 1,200 viewers.
"We wanted a name that made us smile and made it sound like a fun place to be," Ascheim says. "We want to convey that spirit to our audience."
The brand overhaul comes after Ascheim, who joined ABC Family in late 2013, discovered through market research that non-viewers still perceived the channel as more "family-friendly" and "wholesome" than other attributes.
While those aren't negative connotations, that doesn't describe ABC Family's stable of edgier fare, such as Pretty Little Liars, targeted toward a teen and young adult audience.
RELATED: Nicki Minaj has an ABC Family show. This is not a drill.
"There was a huge perception gap between the people who know us well and the people who don't know us at all," Ascheim says. "That largely comes from our label, the name. That bit of data is the thing that finally convinced us that it was time, after a lot of thinking and pondering, to get this done."
The name change also comes as Ascheim and marketing head Nigel Cox-Hagan prepare to target a new wave of viewers, as the Millennial generation starts to age out of the channel's core 14-34 age demo.
"We looked up, and those Millennials got old," he says, with his tongue slightly planted in cheek. "The oldest ones are going to be 40. The Millennials were synonymous with youth for so long that we thought it would happen forever. But they had the nerve to age on us."
Ascheim and Cox-Hagan coined the term "Becomers" to describe the young audience ("from first kiss to first kid") they'll continue to aim for.
RELATED: ABC Family and Fox rated best networks for LGBT representation
"The No. 1 question they have for themselves as they go on this journey from childhood to adulthood is, what are they becoming?" Ascheim says. "We wanted a new name that spoke to this 'Becomer' idea, as well as a name that spoke to this moment in media, as young people see themselves as much producers as they are consumers of content. And we wanted something that invoked a positive reaction."
In broadcast, the term "freeform" is probably best known as the name of a radio format, popular as an "anything goes" ethos on some FM stations in the 1970s. Freeform is the latest in several name changes that The Network Formerly Known As ABC Family has gone through over the years.
ABC Family first launched in the late 1970s as the Christian Broadcasting Network, which eventually morphed into the CBN Family Channel. By the 1990s, most religious fare had been replaced by wholesome family programming, and the network was rechristened The Family Channel. Fox Kids, a joint venture between Saban and Fox, purchased it in 1998 and renamed it Fox Family Channel. Disney then bought it in 2001 and switched it to ABC Family Channel.
RELATED: Italia Ricci spills secrets from Chasing Life season finale
But as ABC Family started targeting an older audience with sexier fare, Disney pondered several name changes over the past decade. One rumored name switch, "XYZ," came close to happening; later, there was also talk of a more modest switch to "ABCF."
It was long speculated that Disney was required to keep "family" in the channel's name due to contractual obligations going back to Pat Robertson's sale of the channel. (Another clause in that sale forces Robertson's The 700 Club to air nightly at 11/10c in perpetuity. That's why it's still on the schedule to this day.)
But Ascheim says he was not aware of any restrictions in changing the channel name.
"I've heard this played back, that clearly there was some sense here that there was a whole series of obstacles between a name change and where we are today," he says. "Since I've been here no one has mentioned those obstacles. Unlike some rebrands in the cable universe, this is not a fundamental shift in who we are. We're keeping the very same audience, a lot of the same programming. It's more like a rename than a fundamental redo… The median age for our channel is in the young 20s, and we hope it stays there."
Ascheim says he came close to choosing another name (which he wouldn't share), but went back to the drawing board after Disney/ABC Television Group president Ben Sherwood asked him to reconsider. "I'm glad he pushed us there."
Cox-Hagan says ABC Family will launch a "very robust and ongoing campaign" to promote the change.
"This is just the start of something that will gain steam as we go into January," he says. "We'll take advantage of the enormous audience during our 25 Days of Christmas [programming block], a huge platform to message the transformation. We'll also leverage our most powerful franchises like Pretty Little Liars."
ABC Family has already secured social media handles for Freeform, and will relaunch its app in January. Simultaneously, Disney Publishing Worldwide is creating a new Freeform imprint to release like-minded books in multiple formats.
ABC Family ended the 2014-2015 TV season as the No. 1 cable network in primetime among women 18-34. Besides PLL, shows returning in the winter to Freeform also include The Fosters, Young and Hungry and Baby Daddy, as well as new series Shadowhunters and Recovery Road. Earlier this year, Ascheim announced that the channel would double its original series output over the next four years.
One thing that won't be changing: Per that old contract, The 700 Club remains parked on the air. "At the moment it seems to be holding steady," Ascheim says. "It pre-dates our particular choices here."
Here's a sizzle reel produced by ABC Family to promote the name change to Freeform:
[jwplatform xH6MYoKq][jwplatform xH6MYoKq]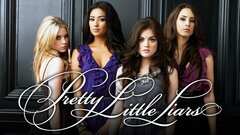 Powered by