Young & Hungry's Emily Osment Talks Season 2 Love Triangles, Surprises, and Guest Stars
Last summer, ABC Family's comedy series Young & Hungry debuted with an episode centered on a pre-proposal break-up. Sad, right? Well, that was nothing compared to the season finale, when tech billionaire Josh (Jonathan Sadowski) finally realized his feelings for personal chef Gabi (Emily Osment); he rushed off to tell her, Pretty Woman-style, after breaking off his wedding—only to find Gabi in the arms of her ex, and his former rival, Cooper (Jesse McCartney). This all sounds more like a soap opera than a sitcom, but trust us, these characters can make you laugh, too.
We spoke with Osment about Gabi's complicated love triangle and what's to come when the show returns Season 2 (March 25, 8/7c), including some exciting guest stars (Hint: Pretty Little Liars' Keegan Allen is one of them!)
Last season's finale was really sad, especially for a half-hour comedy series. Is the season premiere going to be more uplifting?
Well, we pick up right where we left off. Gabi and Cooper are back together and we figure out that everybody knows how Josh feels about Gabi, except for Gabi, and it's a very well-kept secret for most of Season 2, until our midseason finale … when we really do get kind of serious. And really, it's always funny, it's never that intense. [We] need those episodes to keep us grounded, but most of the time we're just having a grand old time.
When she opened the door to Cooper in the finale, do you think part of her was hoping it was Josh instead?
Oh, I'm sure. And I think the way we shot it, the audience didn't know. I think we had a commercial break right as I open the door and it's like, "Oh, it's you!" and the audience is like, "Who's it gonna be?!"
It's almost impossible not to be rooting for Josh, and yet I can't help also liking Cooper so much!
I think that's what's so hard for [Gabi], and when she does find out about Josh, it's undeniable … she loves Cooper, and Cooper's really good for her, but it's not about who's good for her. It's about who's best for her.
If you could give a percentage, how much would you say Josh canceled his wedding to Caroline (Galavant's Mallory Jansen) because of Gabi?
Oh, like 100 percent. I think if Gabi hadn't been in the picture at all, then he would have never realized Caroline was the way she was. It was only until he was introduced to someone who was so pure of heart, and loving and open, that he feels Wait, the woman I'm marrying in my life should be like that.
Josh is getting a new love interest when Kylie Minogue guest stars. Can you tell me a bit about her character, Shauna? And what Gabi thinks about her?
She's in a completely different realm than Gabi. She's a grown woman. She's got kids. It's a more of a mature relationship and I don't think Gabi realizes, you know, I should be in competition with this woman. I think she's just kind of in awe [of] her.
And then there's going to be Pretty Little Liars' Keegan Allen playing Tyler, a drummer who lives in his car, correct?
Yeah! Gabi's doing her laundry out on the balcony and something falls on his car and he brings it up to her apartment and they start to hit it off …She eventually finds out he's homeless but he's, like, very charming, and doesn't really care and he's really funny.
But if he's a love interest for Gabi, how long does Cooper stick around? That feels like Cooper might not be around much longer.
Yeah right, I know. No, Cooper's around for a while … Right now, we're shooting out of order. We're trying to write episodes that we can put anywhere, but this is an episode that can be anywhere in Season 2. She's not cheating on Cooper, I'll tell you that.
Whew! Well, we also know of one more guest star coming back: The show's executive producer Ashley Tisdale will be reprising her character, Logan.
That's probably one of my favorite episodes so far … [Logan] appears in a dream sequence. [Gabi] tries cooking with pot and seeing how that goes because she's trying to make some money on the side. She tries a little too much and dreams arise and Logan is very big part of what Gabi thinks is going to be her next big accomplishment in her career. And then we realize, Well, maybe not.
Now that Season 2 has expanded from 10 to 20 episodes, are we going to get an even slower boil of a romance between Gabi and Josh, if that ever happens?
Yeah, definitely. I mean, it took Rachel and Ross seasons before they dated for real and there was always an, "Are they or aren't they?" kind of thing going, and that's much more interesting to watch. I love what the writers have been coming up with, and it's just such a no-brainer with Gabi and Josh, but I think the more they wait, the better and the sweeter it will be.
Young & Hungry, Wednesdays, 8/7c, ABC Family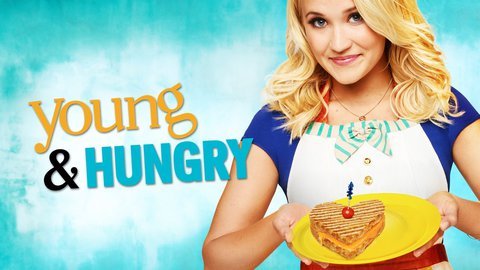 Powered by