'Baby Daddy' Season Finale: Ending a Love Triangle and Creating a 'Reba' Renunion
Spoiler alert! Do not read on if you haven't watched the Baby Daddy season finale.
Til next season do we part…
The Baby Daddy season finale saw an end to its four season-long love triangle as the episode ended with Danny Wheeler (Derek Theler) getting down on one knee to propose to his best friend—and long-time crush—Riley Perrin (Chelsea Kane). Unfortunately, the moment came at the cost of his own mother's wedding, as friends (like guest star Reba) and family witnessed Bonnie and Brad, the actual bride and groom, having trouble saying their, "I do's."
With Ben finally aware of Danny and Riley's feelings for each other, and Bonnie and Brad so close to becoming husband and wife, we asked Baby Daddy show creator and executive producer Dan Berendsen for his thoughts about the season finale.
How did the idea of Reba playing Bonnie's best friend come about? Was it just a matter of finding the perfect time?
It was both, a matter of finding the perfect time and of finding the right role. Reba loves Melissa [Peterman] and she's been graciously trying to adjust her schedule to be on the show. We had a couple of different scenarios for her, but when it looked like she was available around the finale, we had to tie [her] into the wedding. It's nice because Reba and Melissa wanted to play together and they loved getting to play the frenemy role, and the backstory was a little bit of a wink and a nod that these two have history with each other.
Did you always plan for Ben to find out about Danny's feelings this season?
Yes. As far as the love triangle goes, it's been pretty specifically plotted and we realized that was the last piece of knowledge that nobody had. Other characters have found out who likes who, all the different permutations; Riley found out that Danny had liked her, and then he found out that she'd known about it… The only thing that was holding anything back was Ben's knowledge that Danny had been in love with Riley his whole life.
I can and cannot believe that it took Ben this long to figure it out.
The thing about Ben is that he's a little bit of a narcissist, so there's that, and I think when you're in love you don't see it. The thing that people have to remember is that these characters have such a huge backstory, they've all known each other since they were like 4 or 5 years old. Growing up, no one had ever expressed these feelings. Riley had no idea that Danny had liked her all those years growing up, so consequently, why would Ben?
Will there be a time jump between seasons? Or will we get to see Riley's answer right away?
When we come into Season 5, we jump ahead a little bit so we already see [Danny and Riley] in a relationship. We don't have to do those stories we've done already with Ben and Riley where, like, "Oh, no, are we dating? This is awkward," but now that Danny and Riley have both realized they love each other, they are able to be in a relationship. One of the things I really like about them as a TV couple is that they are best friends. They're together all the time, and they have 20 years of experience with each other. Obviously, they will go on and have their own issues and problems, whatever that is, but as far as Ben being a factor, that's done.
Where does this leave Ben?
He's going to be Ben, but he will be developing a love interest this next year. He sort of realizes that he wants someone for him and Emma, so he's on a little bit of a quest for a mom.
What are you most excited to tackle with Danny and Riley's relationship?
The one thing we've never had on the show is a couple who is mid-relationship. Brad and Bonnie have always just been barely past the first date; they get together and they break up. Ben and Riley have made a few failed attempts, but it's never lasted for more than two or three weeks. There's so many things when you're in a relationship, just the day-to-day and trust issues and different things. Having a couple changes the dynamic a little bit, and we haven't been able to have that aspect yet. Now that we do, I'm excited about it.
Speaking of Bonnie and Brad, now that their wedding has been ruined, can we expect another, more successful wedding next season?
You can expect a more successful wedding next season. But I won't guarantee you that their relationship will work out, because it's Bonnie and Brad. We definitely address the Bonnie and Brad question in the Season 5 opener.
Last episode we got to meet "Silky Dobbs." Is this the start of Tucker's search for career fulfilment?
He's on a very big career trajectory next year. He has a little blow up with Mary Hart, who'll be back. He'll be moving on, becoming a little bit more of an on-air personality himself. [Taj Mowry]'s such a talented guy, so we're always looking for things for him to do.
How did you come up with the little flashback at the end of the episode?
You always have to do a tag, but we obviously couldn't go past the moment because it ends on such a cliffhanger. As we're bringing this love triangle to an end, we really wanted to show the "meant to be" of Danny and Riley. You see the moment that Danny talks about, of falling in love with Riley when she fell off her bike and he went over there—and at the same time, you have little troublemaker Ben. You get to see that moment as opposed to just hear about it.
Baby Daddy has been renewed for a fifth season.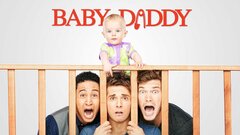 Powered by