'Pretty Little Liars' Finale: The Actress Behind "A" on That Shocking Reveal, Fan Backlash, and Her Own Theories
Spoiler alert! Do not read on if you haven't seen Pretty Little Liars' summer finale.
It took half of Season 6, but we've finally got answers to who Big "A" is, in addition to the identities of Black Widow, Red Coat #3, and the answers to many other mysteries within the PLL saga. Even though we're still reeling from the biggest reveal in the show's history, we decided it was time to catch up with Vanessa Ray. Up until last night we only knew her as Rosewood's CeCe Drake, before she was revealed as transgender, born Charles DiLaurentis, before transitioning into Charlotte and, ultimately, "A." Here's what Ray had to say about the reveal.
How did you react when you found out that CeCe was Charles and A?
I was overwhelmed. I completely freaked out and threw the script across the room. I found out in early June. So it's very, very new to me.
Who on the cast was the most shocked when they found out it was you?
When we were at the table read, I think the biggest reaction was from Lucy [Hale, who plays Aria Montgomery]—she was like, 'Wait! Wait a second!'—and also my [character's] brother, Jason DiLaurentis (Drew Van Acker). The biggest question for me and for everyone else was, 'But you guys dated for a long time. How did that work?' I do think it makes sense now, that there was never a flashback or anything of them actually dating and what that really looked like.
How do you feel about the backlash some fans have about the finale episode?
I love watching the fans to see if they're mad or excited—but everyone has a theory, right? So, everyone has a very strong theory about this show, and to find out that [they] were wrong is a really tough blow. I'm sensitive to that. Like, I get it, guys. I know it's been rough. I know you're thinking that we've let you down, but I know you're going to accept this over time. I felt the same way. When I found out I was like, 'What?! No! Wait a second…' And as I was reading [the script], I had all these questions, but all the questions were getting answered and I felt really satisfied.
Did you have a theory about who "A" was before finding out it was you?
I sure liked that Wren (Julian Morris) theory a lot. Although, I didn't want it to be Wren. You know how you kind of go down those rabbit holes of, like, who's what and what's what? I liked the idea of Toby (Keegan Allen) being "A" and just really being a jerk. I liked that idea a lot.
Will we see Charlotte/CeCe in the second half of the season, after the time jump?
I'm not supposed to talk about it! All I can say is that you're going to know a lot more about Alison's (Sasha Pieterse) relationship [with her]. It's more about what's happening with Alison, honestly.
Do you know anything about Ali going forward?
Well, it's five years later and we know that [Ali's] name is not the same. We know that she stayed back because there are relationships there that she still cares for. It'll be fun to see her take on that role of Adult Alison now that she is living her life.
What was your favorite scene to shoot in this episode?
I was so fortunate to get to play so much with Sasha, and she got me through those nights. There was a lot of just sitting in a room and telling her the story of how it all happened. We became real sisters over the course of the week of filming. She ended up coming to my wedding that weekend. We had filmed all week and then I was like, 'Well, want to come to my wedding in like 7 hours?' and she was like, 'Yep, sounds good.' I think every last bit of things I got to shoot with her, I was really, really lucky. As an actor, this was kind of it for me. This was a dream role to play. The layers and layers of material to get through—there was a lot of juicy meat to bite into.
Were there any scenes you filmed that didn't make it into the finale?
There was one or two that didn't make it. But you know what that means in Rosewood—it doesn't mean they didn't make it, just that they didn't air yet.
Pretty Little Liars resumes the second half of Season 6 in January 2016.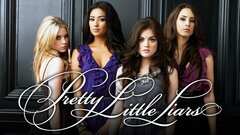 Powered by