Comic-Con 2017: Your 'Arrow' Burning Questions Answered
It's an overused expression about finales, but this time it's true: Arrow's fifth season ended with a bang as an entire island—and maybe all of Oliver Queen's allies—went kaboom. We preview what's next and who made it off alive!
How long will it be until we find out who survived the explosion? Season 6 will kick off five months after Prometheus, aka Adrian Chase (Josh Segarra), triggered all those explosives—before killing himself in front of Oliver (Stephen Amell) and Oliver's son, William (Jack Moore). So when the show returns, we should learn pretty quickly the fates of Oliver's entire team: Diggle (David Ramsey), Felicity (Emily Bett Rickards), Lance (Paul Blackthorne), Thea (Willa Holland), Rene (Rick Gonzalez), Curtis (Echo Kellum) and Dinah (Juliana Harkavy) were all on the island when the bombs went off. "And they're all in jeopardy," executive producer Marc Guggenheim warns. "Who knows who will be back?"
Well, John Barrowman's Malcolm Merlyn definitely won't be back, right? It sure sounded like Malcolm met a grisly end after replacing daughter Thea on a land mine earlier in the episode, but "death is not an impediment to any character reappearing on any of the [Arrowverse] shows," Guggenheim reminds us. "We've got time travel, we've got parallel universes and we've got flashbacks." And since Merlyn technically died off screen, we've got hope!
See Also
Wild Dog and Black Canary will fight on for Season 6.
OK—enough death. Tell us what we really want to know: Is Olicity back on? All of Oliver and computer whiz Felicity's flirty reconnecting in the season's final episodes are just baby steps, kids! "Getting them back into a full-on relationship by the finale would have felt ridiculously rushed," Guggenheim says. "This is just going to be the latest chapter of their lowercase-r relationship." If Felicity survives.
Why bring Black Siren (Katie Cassidy) on full-time next season? According to Guggenheim, Katie Cassidy's killer return as Earth-2's Laurel in the season's 10th episode inspired "all these different stories for us." Among them: a rivalry with Felicity, Lance having to deal with his dead daughter's evil look-alike and, thanks to that awesome Canary-on-ex-Canary fight in the finale, a big beef with Juliana Harkavy's Dinah. This is all good with us if we get more delicious villainy from Cassidy. "Katie's phenomenal, and you can tell that she's really enjoying playing this iteration of Laurel," Guggenheim says.
Could Oliver's next major undertaking be daddy duty? Carefully avoiding spoilers, Guggenheim will only say, "There's a lot of interesting stuff to be explored now that William has been kidnapped twice and Chase has exposed Oliver as being William's father."
This article appears in TV Guide Magazine's Comic-Con special issue.
Purchase the 2017 Comic-Con collector's issue for more The Flash burning questions—and answers.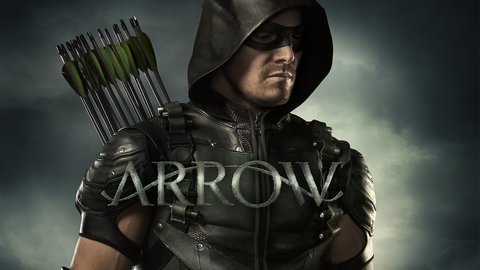 Arrow
where to stream
Powered by