'iZombie''s David Anders on Blaine's Humanity and Liv's Love-Hate Feelings
Other shows may want us to fear the walking dead, but iZombie has made us fall in love with them. Especially the charmingly evil ones, like David Anders' brain-dealing Blaine DeBeers.
"I thought it was gonna be a tough sell," says the Once Upon a Time and Alias fan favorite, of the whip-smart horror dramedy. "You know, 'ex-medical student turns zombie, eats brains and solves crimes.' That is a tough sell! But once it started airing, people got the tone of it and saw what it really was."
Now, a week before The CW hit kicks off its second season (Tuesday, Oct. 6, 9/8c), Anders is giving us some scoop on what lies ahead for Blaine, who was injected with a potential cure by Liv (Rose McIver) in the season finale. And it turns out, the guy might not be all bad.
RELATED: The iZombie Cast Is Ready to Battle The Walking Dead
"There's not a crime he wouldn't commit, but he does have some humanity," he confesses with a laugh, hinting that Blaine may not be entirely back among the living again, either. "We're going to be playing with the side-effects of the cure, which you will get to see in the first episode of the season." In addition, we'll also get a better idea of the "who and why" Blaine is the way he is when Robert Knepper (Prison Break) shows up as his father. Plus, we'll get a look at how far the recovering cadaver will go to maintain his undead street cred. "He's a human in zombie's clothes," he jokes. "His zombie now comes in a bottle of peroxide and occasionally some powder for the face."
As for Blaine's antagonistic relationship with Liv, Anders promises that the foes will continue to clash, even while working for the greater good. "There is the love-hate thing between them, with any love coming from Blaine's side…she absolutely hates him. But they do have to team up this season [and] put aside their rocky past." Given their evident chemistry, could this finally be a turning point for the pair? Not likely, says Anders. "Teammates don't have to love each other, they just have to win the ballgame."
Fans who missed out on the fantastic first season can binge on the DVD set, which hits stores today. Included on the 3-disc collection are the cast's 2104 Comic-Con panel, deleted scenes and all 13 episodes, including an hour close to Anders' heart. "Episode 12, the one before the finale, I think that was a real complete episode," he reveals. "It had that James Blake song at the end with the montage. That was my favorite episode of Season 1."
Do you have a favorite episode from iZombie's first season? And are you ready for Season 2?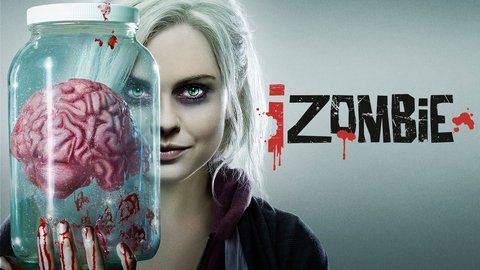 iZombie
where to stream
Powered by