Nikki Bella Previews What's to Come on 'Total Bellas' and 'Total Divas'
It's been one milestone after another for the Bella twins.
And fans of Nikki and Brie are about to witness all those life-changing moments firsthand when Total Bellas returns for Season 2 on E! on Wednesday. Nikki believes the WWE Total Divas reality show spinoff has a different feel to it, with this installment being extremely raw.
"There is even footage off cell phones this season, because you are going to get so much up-close and personal with my engagement, Brie in labor. That is nuts," she said.
"I think there are a lot of situations that happen in Total Bellas this season that everyone relates to, like my brother and his wife separating for a bit and the reasons why. I think a lot of people are going to sit on the couch, and whether they are with their girlfriend, boyfriend, wife, husband, friend—everyone has got something to relate to here."
The show doesn't just focus on the former WWE women's champions but also on other members of their family. In Nikki's eyes, with the Bella family, when it rains it pours.
"My mom has this insane breakdown, which I'm like, did we give her too much wine? It got so intense," she said. "It was the first time I ever saw my mom like that. It was really strange for me, and I think you can see it. It's just crazy-real this season. There are a lot of relatable stories going on."
Thanks to six seasons of Total Divas and a seventh on the way later this year, Nikki is a reality show veteran. Now she is gearing up to welcome Carmella, Alexa Bliss and Nia Jax to the Divas sisterhood. She likes how each brings something different to the table.
"I definitely had a lot of input being an executive producer, and those three girls I got to spend a lot of time with, especially with Alexa and Carmella on SmackDown Live. Being around them and seeing how they are and seeing their presence in the ring, I thought that these girls are money," Nikki said.
"I knew we had to get them in here. I have also hung out with Nia a lot, and she is amazing. One, she is hilarious. Also, her strength and what she represents is amazing. And you are going to see that a lot on Season 7 of Total Divas. They are just amazing women."
If all of that wasn't enough to keep someone busy, there is even buzz about Nikki joining the cast of the upcoming season of Dancing with the Stars. Not to mention, she has a wedding to plan with her husband-to-be, John Cena.
"It's tough. We have not planned a lot, but at least we know our date. I also have my dress. Those two important things," Nikki said.
The heart-warming scene at WrestleMania with Cena bending the knee and popping the question was a dream come true for Nikki.
"I'm not taking that ring off," she said, hand in the air. "This is staying on forever."
WWE Total Bellas premieres September 6 on E!
WWE Total Divas returns for Season 7 this fall on E!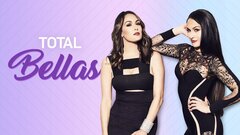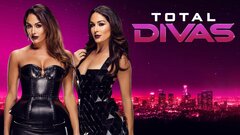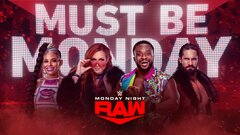 WWE Raw
where to stream