Margaret Atwood Praises Hulu's Emmy-Winning 'The Handmaid's Tale'
Hulu scored a major victory during Sunday's 69th Annual Primetime Emmys, as its The Handmaid's Tale was the first streaming platform show to win Outstanding Drama Series.
The Handmaid's Tale, based on the 1985 novel by Margaret Atwood, took home eight awards (including Elisabeth Moss' Outstanding Lead Actress in a Drama Series, Outstanding Directing for a Drama Series/Outstanding Writing for a Drama Series, and Ann Dowd's Outstanding Supporting Actress in a Drama Series), and Atwood was there to experience it all.
See Also
Can't watch the 69th Primetime Emmy Awards? We will update this list of Emmy nominees live.
"It's been a number of years since the novel was written and since the first film was made," Atwood told reporters backstage after The Handmaid Tale's win. "The producer of the first film is here tonight, Danny Wilson, who quite bravely made a film back in 1989, when the frame for this book was different. Fewer people were ready to believe that it was really real; more people are willing to believe that now."
The show and the book have taken on a different weight given the current political climate, and Atwood acknowledged that was one the big points of her tale. "My takeaway would be never believe it could never happen here," she said. "There was nothing that went into the book that people hadn't done at some point in time in some place."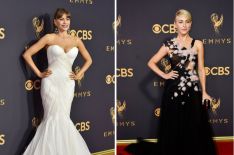 See Also
Celebrities hit the red carpet of the 69th Primetime Emmy Awards on Sunday, September 17, 2017. Who will be the best dressed? Who will be the worst dressed?
The group adapting her tale has taken that note to heart in the Hulu version. "It's been amazing to work with this team," Atwood praised. "The person I've been in most contact with is [showrunner] Bruce Miller]. And any change that he made, it was thought through very carefully, and he had good reason for doing it. They've been faithful to the premise that nothing goes in that hasn't already happened [in real life] and also been faithful to never believe it can't happen here."
But this isn't the only take on The Handmaid's Tale out there. "It's also been an opera, it's been a ballet; it's being turned into a graphic novel right now," said Atwood. "There's also a short on YouTube called, 'They Finally Made A Handmaid's Tale For Men.' So it's gotten out of the box. People are sending me knitted chickens with little handmaid's outfits on them. And they're sending me photos of their dogs and cats [dressed up]. It's out there in the world. It's also become a theme for state legislature protest. You could say the handmaids have escaped. They're out there. And they're coming to you again in Season 2."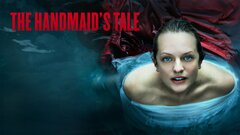 Powered by