Netflix Releases Teaser for Margaret Atwood Adaptation 'Alias Grace' (VIDEO)
Hulu has received great critical and popular acclaim with its adaptation of Margaret Atwood's novel The Handmaid's Tale, and from the look of the stunning teaser below from Netflix, that streaming service may find itself with similar raves for its adaptation of Atwood's Alias Grace.
Alias Grace is inspired by the historical true story of convicted murderer (in the teaser, you'll see she prefers the term murderess versus murderer, "if those are the only choices") Grace Marks (played in the series by Sarah Gadon). Marks was a poor, young Irish immigrant and domestic servant in Upper Canada who, along with stable hand James McDermott (Kerr Logan) was convicted of the brutal murders of their employer, Thomas Kinnear (Paul Gross), and his housekeeper, Nancy Montgomery (Anna Paquin), in 1843. James was hanged while Grace was sentenced to life imprisonment, eventually exonerated after 30 years in jail. Atwood's 1996 novel inspired by the event was on the shortlist for the prestigious Booker Prize, and won Canada's Giller Prize.
Netflix's adaptation of the novel is a six-hour miniseries written and produced by Sarah Polley (Looking for Alaska, Away from Her) and directed by Mary Harron (American Psycho, I Shot Andy Warhol).
Alias Grace will be broadcast in Canada on CBC and stream everywhere else globally on Netflix Friday, Nov. 3.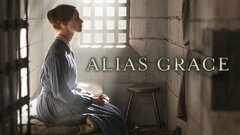 Powered by