'Billy on the Street': Chris Pratt, Tina Fey and Julianne Moore Come Out to Play
Whether Billy Eichner likes it or not, pop culture has a tendency to follow him wherever he goes. It seems fair, since the 37-year-old comedian has carved a career out of grilling random strangers on the streets of New York City about the lifestyles of the rich and famous. Even on an early September afternoon, in a quiet West Hollywood café thousands of miles away from his hometown, Eichner cannot escape the pull of the latest gossip.
"Sorry, I'm getting a lot of beeping, and I don't know what the situation is," Eichner says as he removes his phone from his pocket to peruse the notifications. "It's just my friend sending me five text messages about Madonna's opening night in Montreal. I won't tell you who it is because he's a well-known journalist, but this is my life and what I have to deal with on a daily basis."
Eichner's life is about to get much crazier as he puts the finishing touches on the 10-episode fourth season of his frenetic game show Billy on the Street, which moves from Fuse to TruTV on October 8. Affable and mild-mannered in person, Eichner channels an entirely different persona when he accosts pedestrians to participate in such games as "Quizzed in the Face" or "For a Dollar," where the unsuspecting subjects are rewarded a crisp dollar bill if they complete a rapid-fire pop-culture challenge issued by the loudmouthed host (for example: "Spin in a circle if you're excited for the new James Bond movie" or "Name three Clintons"). "Sometimes people don't know that I'm joking," Eichner says. "New Yorkers are savvy in that they eventually figure out that I'm doing a schtick, but there are so many people who get really mad at me."
In order to diffuse particularly tense situations, Eichner recruits help from some of his famous friends to join in on the fun. This season, Eichner's guests include Tina Fey, Chris Pratt and Will Ferrell. He also shares the screen with one of his all-time favorite celebrities, Julianne Moore. "I mean, what is she doing on this show?" Eichner asks incredulously. He reached out to the Oscar winner himself via a Twitter direct message after he saw that she was following him. "She wrote back to me in, like, an hour, saying, 'Where and when do we do it?' She's one of our great actresses! You really don't know who's watching."
Eichner learned that lesson firsthand last February when his production team at the comedy site Funny or Die receiveda call from the White House to gauge his interest in working alongside First Lady Michelle Obama for her "Let's Move!" campaign, which helps combat childhood obesity. Eichner immediately jumped at the opportunity, and the online video—which also features Sesame Street's Big Bird and Billy on the Street's crotchety fan-favorite contestant Elena—has amassed almost half a million views to date. "It was the most bizarre convergence of forces of nature," Eichner says. "Michelle Obama pushed me around in a shopping cart while I read Gwyneth Paltrow's Oscar speech. I don't know why these things are happening to me, but they are."
And a lot is happening to Eichner. Over the last year, he said goodbye to his recurring role as Pawnee parks department director Craig Middlebrooks on NBC's Parks and Recreation and he costarred with longtime collaborator Julie Klausner in Hulu's critically acclaimed comedy Difficult People, which has been renewed for a second season. He also recently signed his first book deal and will make an appearance in the upcoming Seth Rogen film Neighbors 2. "I don't really have time to kick back and be like, 'I'm having a huge year,'" Eichner says with a laugh. "I've always been a really hard worker, so I have very high standards and expectations for myself. Billy on the Street is just one weird little set of videos I did that became an industry, but it's Hollywood, so you have to start planting seeds early."
Eichner, who majored in theater at Northwestern University, is even hoping to showcase his musical chops one day, either in a Broadway production or on camera. "I would have killed to be the Cowardly Lion in NBC's The Wiz Live, but I wasn't asked," he says. "I haven't lost faith that David Alan Grier might get sick at the last minute."
But when it comes to Billy on the Street, Eichner is still hoping he can land his dream guest star one day: a three-time Oscar winner whom he affectionately refers to as "Meryl f—ing Streep." "I almost feel like Meryl needs to be on the last episode, because where do we go after her?" Eichner asks. "I've been screaming about her for 10 years, so who comes next? By the way, I know where she lives, so I'm just going to stand in front of her building or go find her in Connecticut or wherever she is wintering." Now those are some street smarts.
Billy on the Street, Season premiere, Thursday, Oct. 8, 10:30/9:30c, TruTV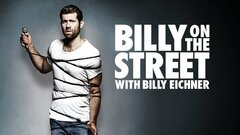 Powered by