Hulu's 'Difficult People' Skewers the World Without Apologies
For Julie Kessler (Julie Klausner) and Billy Epstein (Billy Eichner)—the struggling thirtysomething NYC comedians at the center of Hulu's Difficult People—the sun doesn't come out at all, let alone tomorrow. And never is that more evident than in the series' opening minutes, when the pair attend a Broadway matinee of Annie.
"Oh s–t, Annie is being played by an understudy today," Billy announces to the entire theater. "And her name is Taylor." (Trendy baby names irritate the duo—as do religious people and fans of audience participation.) Naturally, a self-righteous mother in front of them objects to his potty mouth. "I paid $120 and I can say s–t if I want to!" he snaps, while Julie explains a hard truth to the lady's kids. "Do you know what an understudy is?" she asks, making a thumbs-down sign and blowing a raspberry. "Understudy is like a fancy word for disappointment."
Suffice to say, these people are difficult. "Billy and Julie think they're rational," Eichner says. "But they're incredibly blunt and self-centered. They put their careers above their romances, their families and serious societal issues." They're also loud, judgmental and very funny. And they'd need a healthy sense of humor, considering the only professional approval they've received—despite their efforts—comes in the form of Internet comments. "Difficult People," explains Klausner, "is basically Billy and Julie demonstrating that it's them against the world."
The concept is primarily the brainchild of Klausner, a New York-based writer and comedian. It's a heightened adaptation of her life and friendship with Eichner, who parlayed his own Internet fame into the series Billy on the Street (which has aired three season on Fuse but will move to TruTV for Season 4) and a role on Parks and Recreation. (His shtick: loudly bombarding startled pedestrians with a microphone and random questions like "Did Jennifer Hudson peak too soon?")
They met after Klausner's ex-boyfriend showed her Eichner's YouTube clips, including one in which he criticizes a toddler's rendition of "Reach Out and Touch (Somebody's Hand)" and harangues a woman underestimating Lily Tomlin ("She just hasn't had the breaks!"). "I'd never seen anybody that bold and weird," Klausner recalls. "And he was so quotable. I emailed him saying, 'I'm such a fan and I'd die to work with you.'" They chatted about pitching a talk show and cowriting a sitcom pilot, though neither materialized. But when Billy on the Street became a TV series, Klausner joined the writing team.
"That's where we discovered we both find it amusing to approach matters of pop culture that aren't that important to the average person very seriously," Eichner says, describing what is also a crowning trait of fictional Billy and Julie. (Says Billy in one episode: "How can you think about food when Huffington Post just tweeted what George and Amal Clooney would look like as Simpsons characters?")
Three years ago, Klausner began writing a script for a Curb Your Enthusiasm-type show, this time with a female lead whose best friend is essentially Billy Eichner. "Every other spec script I'd written came from a place of 'the network would want this,'" she says. "This was very much my 'What if someone said you can make any show you want?' piece." Klausner then suggested her agents send the script to Amy Poehler. "She got on the phone right away with Billy and me," Klausner remembers, "and said, 'OK, how should we pitch this?'" It was Poehler who came up with the title Difficult People.
With Poehler's guidance, Klausner and Eichner successfully brought the pilot to USA, which at the time was branching into the sitcom game. But because of Eichner and Poehler's commitment to Parks and Recreation, it was nearly a year before they filmed the pilot. By the time it was done, USA's scripted comedy department had ceased to exist. Enter Hulu.
"One of the things we loved about Julie and Billy's style is that they have no filter," says Beatrice Springborn, the streaming network's head of original programming. "They speak to our times like no other comedians working today."
Indeed, the series will remain true to the very specific celebrity-skewing brand of its two stars, all while exploring the agony and ecstasy of building a comedy career in the era of social media. Difficult People's Billy and Julie have been chasing success for over a decade—Billy is still waiting tables—but it's only their Twitter accounts that have gained them any semblance of the audience they crave. Retweets, as they find out, are fickle mistresses. In the same episode that Andy Richter "faves" one of Billy's jokes, @SpinClassAddict91 unfollows Julie with the message "Go kill yourself."
The pair's talent for mocking public figures in their tweets—"What would I rather see less: Chelsea Handler's nipples or her Netflix talk show?"—also attracts powerful enemies. It's a plotline that Klausner herself knows well, having alienated quite a few bigwigs with her popular podcast, How Was Your Week? One event in particular—being confronted by Smash composer Marc Shaiman after she excoriated the former NBC musical—made it into the series, with Shaiman playing himself. "That experience was hard for me to get over," she says, "so filming it for this was semicathartic."
Not that she intends on changing her ways. "Originally, there was a Kevin Spacey joke every episode," Klausner says. "Some got cut, but there are still plenty." And yet, Difficult People is still full of famous guests, including Kathie Lee Gifford, Debbie Harry and Martin Short. One person they really wanted on that list? Broadway hunk and 30 Rock alum Cheyenne Jackson, whom they plan to woo for Season 2, possibly literally. "Yes, why can't I date Cheyenne Jackson on the show?" Eichner says. "Maybe we'll have a three-way? That's it: We're going to be the first great polyamorous sitcom in Season 2. I don't know if there's a GLAAD award for that. There'd better be!"
Difficult People, Series premiere, Wednesday, August 5, Hulu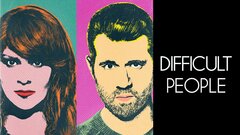 Powered by