What We Learned About Michelle Obama From Her Billy on the Street Appearance
Billy Eichner and Funny Or Die gave us an excellent reason to continue living on the Tuesday after a three-day weekend that included Valentine's Day: A new edition of Billy on the Street with Michelle Obama, Big Bird, and Billy on the Street mainstay Elena.
A few things we learned about the First Lady:
1. She uses sports to get her husband's attention.
2. She thinks Gene Hackman is a great actor.
3. Other than her nationwide healthy eating and exercise initiative, one of her priorities is texting .gifs. (According to Billy.)
4. That was not an actress playing Michelle Obama.
5. She is of the opinion that eating a carrot is better than Ariana Grande, and that a box of frozen corn is more deserving of the Kennedy Center Honors than Martin Short.
6. She thinks the One Direction guys are "very cute."
7. She's cool with the all-female Ghostbusters movie.
8. No one but FLOTUS could imbue the line "I am Groot" with such gravitas.
9. Not so great with remembering the main characters from The Facts of Life, though.
10. While she chose carrots over Ariana Grande, that doesn't mean she thinks Grande is untalented or doesn't have a great ponytail.
Bonus: Elena also thinks the One Direction boys are "so cute." Billy, your next mission is to bring Elena and 1D together.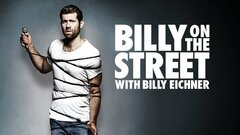 Powered by