'Billy on the Street' Moving to TruTV Billy on the Street moving to TruTV as part of Billy Eichner's new deal with Turner Broadcasting
TruTV has ordered a 4th season of Eichner's Funny or Die series, which previously aired on Fuse. As part of Eichner's deal, reruns of his show will air on TBS and he'll develop potential pilots and specials for TruTV, TBS and Adult Swim.
Portlandia renewed for Seasons 6 and 7
Each renewal is for a 10-episode season.
Jimmy Kimmel to moderate a Scandal panel at PaleyFest
Judd Apatow will also moderate a PaleyFest panel, for his HBO series Girls.
ESPN's SportsCenter ad reveals the "true identity" of Katy Perry's sharks
Left and Right Shark turn out to be SportsCenter anchors.
TNT to air LeBron James-produced NBA fashion show
NBA All-Star All-Style will be part of NBA All-Star Weekend.
Better Call Saul director: "We always referred to him as Mijo"
Michelle MacLaren, director of last night's 2nd episode, said one of the challenges in filming was keeping the big surprise a secret, especially with Breaking Bad fans watching. So she only referred to the big surprise as "Mijo." PLUS: "Mijo" says "it was difficult…There's nothing fun about it," Bob Odenkirk's heart dropped when he read the script, and what's up with Jimmy's brother's condition?
Gotham and Sleepy Hollow hit lows in the demo
Meanwhile, Jane the Virgin topped CW lead-in The Originals for the first time.
MTV's The Shannara Chronicles adds 3
Brooke Williams, Daniel MacPherson and Marcus Vanco are boarding the fantasy series.
Kardashians producer Ryan Seacrest talks about the Bruce Jenner situation
"Bruce will tell his story when he wants to tell his story," Seacrest tells Ellen. Meanwhile, TMZ reports Jenner's docuseries could begin filming in May.
Here are Brian Williams' potential replacements
There's already buzz about who will replace the NBC News anchor if he can't survive this scandal. Insiders point to Lester Holt, Carl Quintanilla and Willie Geist, while Matt Lauer is expected to stay at "Today." PLUS: NBC News touts Nightly News ratings milestone.
Gotham teases The Joker
A teaser for next week promises the next villain to invade Gotham is "no joke." PLUS: See the new Queen of the Underground.
Ben Stiller to produce and direct dramedy Super Sad True Love Story
The network-less series, based on Gary Shteyngart's best-selling book, will focus on a bookish man in a tech-obsessed society and his relationship with a materialistic Korean-American woman.
Conan O'Brien takes on anti-vaxxers
Watch his sketch: "Kind Hearts Day Care for Unvaccinated Kids."
Craig Ferguson's robot skeleton resurfaces
Geoff Peterson is now a steamer.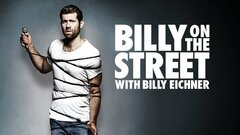 Powered by