Syfy at 25: Network Celebrates Anniversary With 'Battlestar Galactica' Marathon and More
It may be Syfy's 25th anniversary, but it's the fans who will get the presents. Among them: a weekend marathon of their most iconic series, Battlestar Galactica (2004-2009).
The network will first air the BSG miniseries that kicked off the prize-winning space military drama on Friday, September 22, at 8/7c, then run the entire first season the following Saturday and Sunday, September 23-24, beginning at 6/5c each day. (The entire 76-episode run of the series will be available on-demand for 30 days starting September 22.)
Since its launch in September 1992 as the Sci-Fi Channel, the network has had three different names, four different logos and a number of rebrandings. The most recent rebrand came earlier this summer with a stated focus on its fans, and Syfy is going big with such ambitious new series as graphic novel adaptation Happy! starring Christopher Meloni and the Superman prequel Krypton, arriving in 2018.
Plus, the network has a development slate that includes adaptations of such sci-fi classics as Brave New World, Hyperion and Stranger in a Strange Land.
But first up, during the month of September the network is rewarding its longtime fan community and welcoming new science fiction geeks alike with what they call "a month long celebration of the collective history of science fiction." Besides the return of Battlestar Galactica, comic book and sci fi nerds alike might want to catch SYFY 25: Origin Stories, a 15-part podcast series hosted by superfan Adam Savage (Mythbusters) that launched on September 8.
Among the heroes of the genre in discussion with Savage: Oscar-winning special effects makeup artist Rick Baker, producer/writer David X. Cohen (The Simpsons, Futurama), actor Jonathan Frakes (Star Trek: The Next Generation), writer Neil Gaiman, whose work inspired the Starz series American Gods, BSG creator Ron Moore, whose latest series is Outlander, and director/writer Kevin Smith (Comic Book Men). Select podcasts will be made into custom animated short films. The podcast and films will be available on Syfy.com, Apple Podcast and Google Play.
Let us know: What is your favorite series from 25 years of Sci-Fi Channel/Syfy? Tell us in the comments section!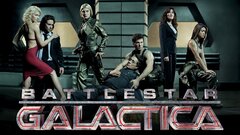 Powered by