'Heroes Reborn': 7 Newbies Who May Have Superpowers
Holding out for a hero? We've got plenty! But will they be there when you need one? Heroes Reborn, a reboot of the landmark 2006–2010 series Heroes, takes place five years after the original at a time of growing global hysteria. "People with special powers are being hounded—even killed—and now they've gone into hiding," creator Tim Kring says. Timing couldn't be worse, because, notes Kring, "the world is about to face a tragedy of apocalyptic proportions." Returning to this dire scenario are such Heroes favorites as Jack Coleman (Noah, aka HRG), Masi Oka (Hiro) and Greg Grunberg (Matt). Zachary Levi, of Chuck fame, joins the franchise as Luke Collins, a twisted vigilante out for revenge against all Evolved Humans, or EVOs. Expect many more fresh faces. Who is concealing a superhuman ability? Who might trigger the end of times? Meet the newbies.
RELATED: More Editors' Choice Picks for Promising Shows | Visit Our Fall Preview Page
Emily Duval
Played By Gatlin Green
She's the quintessential high school sweetheart, but she's no pushover. Emily is suddenly thrust into the war between EVOs and their haters, "but she doesn't freak out," Green says. "She's calm and confident in the midst of some pretty crazy chaos. And she'll kick butt if she has to." Hmmm. Could Emily have a special power of her own?

Miko Otomo
Played By Kiki Sukezane
Beautiful and reclusive—and obsessed with origami dragons—Miko is a young swordswoman whose Tokyo address mysteriously pops up in a futuristic video game called Evernow. "Miko is on an epic quest to find her father," Kring says. Her secret, he teases, "will lead to a shocking and very expensive departure for Heroes."

Tommy Clark
Played By Robbie Kay
This on-the-lam teen can make people disappear but has no idea where they go or how to bring them back—and this has made his life a living hell. One day, Tommy fatefully collides with EVO slayer Luke. "But Luke can't kill the kid," Levi says. "This sweet boy just wants a better life. He will plant a seed in Luke's heart."
RELATED: Meet More Old and New Heroes Characters

Quentin Frady
Played By Henry Zebrowski
A twitchy conspiracy theorist with a good reason to be paranoid, Quentin tracks down an incognito Noah and drags him back into service. "The two characters are wonderfully mismatched," Coleman says. "Quentin brings something wildly unique to the Heroes world, thanks to Henry's gift for improv comedy. He is hilarious."
Malina
Played By Danika Yarosh
Talk about pressure! Sixteen-year-old Malina, who can control the elements of earth and sky, is being protected from society by an unseen entity and is now fine-tuning her powers in the Arctic. "Malina has been told her entire life that she is destined for greatness," Yarosh says. "She has the weight of the world on her shoulders."
Erica Kravid
Played By Rya Kihlstedt
She has killer charisma to go with her killer intentions. Kravid, the stylish head of the sinister tech conglomerate Renautus, is Reborn's big bad. But don't tell her that. "Erica is willing to sacrifice millions for the greater good—saving humanity from itself," Kihlstedt says. "In her mind, she's not an übervillain; she's an überhero."
Carlos Gutierrez
Played By Ryan Guzman
The first Heroes character to don a superhero costume, Afghanistan war vet Carlos masquerades in the East Los Angeles barrio as caped crusader "El Vengador." But this randy, boozy guy is a deeply tortured soul. "Carlos struggles with self-worth," Kring says. "He wonders, 'Can I really fit this suit? Do I have what it takes?'"
https://www.youtube.com/watch?v=4FLHB2zB_cA
Heroes Reborn, premieres Thursday, Sept. 24, 8/7c, NBC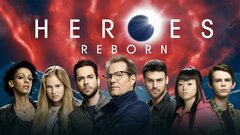 Powered by