Nerd Alert: Zachary Levi Talks 'Geeks Who Drink', 'Heroes Reborn', Marvel Movies, Comic-Con and More
Bottoms up! Former Chuck star Zachary Levi turns game-show host with Syfy's new trivia competition series Geeks Who Drink, premiering Thursday, July 16 (11/10c). The late-night program will team fanboys and fangirls with celebrity captains who've earned their stripes in the sci-fi/fantasy genre, among them David Giuntoli (Grimm), Brett Dalton (Marvel's Agents of S.H.I.E.L.D.), Tricia Helfer (Battlestar Galactica) and Dominic Monaghan (The Lord of the Rings). The more questions the players answer correctly, the more shots they down. The team with the biggest bar tab wins. Levi, who also exec produces the show via his company, the Nerd Machine, gives us the tipsy details. Plus he talks Heroes Reborn, Nerd HQ, Thor and more!
A sci-fi trivia quiz show is a great idea. What took so long?
It's all in the timing. Celebrities doing game shows only recently came back into vogue, plus it took a while for celebrities drinking on TV to be OK again. Look back at some of those old Tonight Show episodes with Johnny Carson and everyone is drinking and smoking. It was a party! And then, for the next 40 years, the party stopped. I never imagined I'd host a game show, but Syfy wanted me to do it because I understand the world of geek trivia. Also, they must have heard I'm a total lush.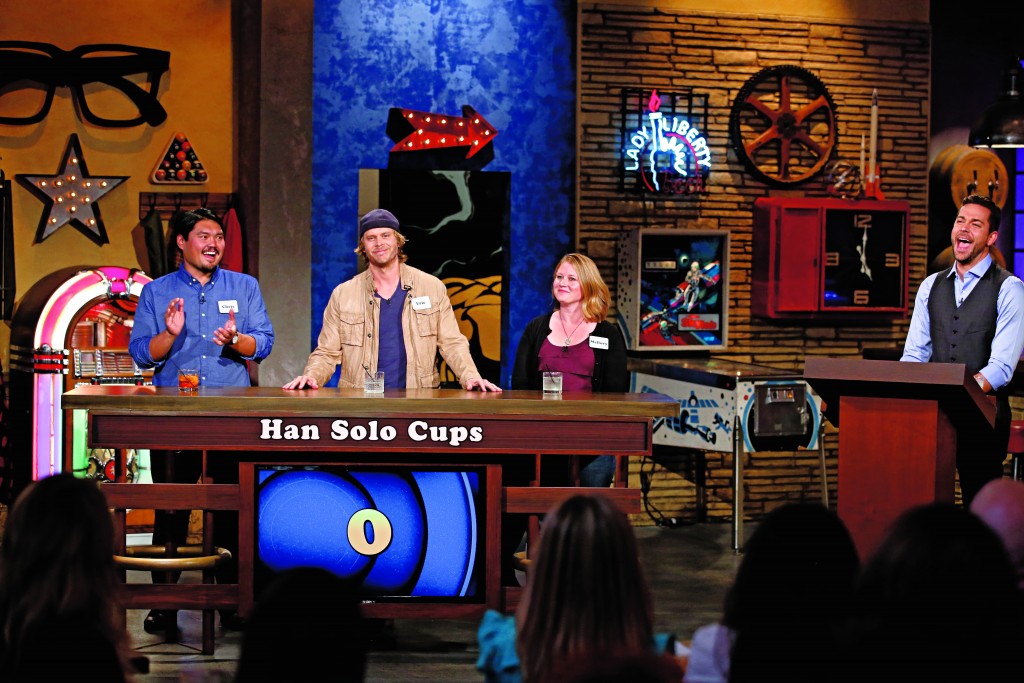 But since when do sci-fi geeks love to get liquored up? Don't they prefer Yoo-hoo or, if it's a really big occasion, Fanta Orange?
Pub trivia has been big in England for decades. Now it's huge here, too. Geeks Who Drink is an actual organized phenomenon that happens in more than 600 bars across the U.S., so it's not true that all geeks drink Yoo-hoo! Nor do they wear pocket protectors and horn-rimmed glasses and live in their mothers' basements. Some are pulling down a million a year and living in apartments overlooking Central Park. Geeks are everywhere. And a lot of them love a good gin and tonic!
It seems like everyone claims to be a geek these days, including just about every supermodel. How did the out crowd become the in crowd?
A geek or nerd or dweeb—whatever you want to call yourself—is anyone who is crazy passionate about something. Now, that could be comic books and superhero movies or cars or fashion or food or horticulture. It's important to break down the stereotypes and clichés. Nerd culture was damned for so long, with people ready and willing to judge us, put a label on us, keep us at arm's length. But now that it's gone mainstream, there's this weird reverse discrimination within the culture. "You didn't like Iron Man back when I first liked him! You're not really a fan." I'm like, "What the f–k?" It's so strange to go from feeling alone in your nerd-dom to having fights about who was here first. We should be rejoicing and saying, "Awesome! Other people get me!" Instead, we're turning on each other.
Has your nerd cred ever been questioned?
Back when I was doing interviews for Chuck, I'd talk about what a nerd I am and people would straight up say, "He's a fake. He's just an actor saying that for PR." I was gobsmacked by that. I was like, "Wait a minute, you weren't there cradling my crying 8-year-old self when I was getting teased at school for being a spazzy, comic book–reading nerd." Girls wouldn't give me the time of day. Trust me, that's not something you lie about.
You're starring in the Heroes Reborn update coming this fall. Word is you approached them. True?
Chuck and Heroes were on NBC at the same time, and, as much as I loved Chuck, I was jealous of Heroes because those people got to fly and do time travel and all that cool s–t. When it was announced that Heroes was coming back, I immediately asked my team to get on it. After years of playing the goofy guy with the big heart, I was looking for something grittier, messier, meaner. And I got it. My character, Luke Collins, has a real ax to grind when it comes to people with special powers. He's lived through a lot of torment and conflict, and it has sent him down a dark rabbit hole. You won't know who's going to die at his hands. No one is going to confuse this guy with Chuck.
Will there ever be a Chuck Reborn? After all, that show lasted longer than Heroes.
I'd love to bring the band back together, even if it was just for a TV movie, to see what missions they'd be involved with now but—most important—to find out what happened with Chuck and Sarah [Yvonne Strahovski]. Did she ever get her memory back? A lot of fans were disheartened by the way we ended things. Chuck had so much heart and action and beautiful girls, but people didn't know what to make of it. Was it a drama? A mystery? Romantic comedy? It was almost too unique. I'd love to bring it back as a thank-you to the people who got us.
And you're back playing Flynn Rider in Tangled!
How cool is that? Being a part of that film was a dream come true—literally, because growing up I actually dreamed of doing a Disney animated musical and still can't believe it happened. And then Mandy Moore and I got to sing at the Oscars. What the hell? It was insane! One day, out of the blue, Mandy and I got phone calls asking if we'd do it as an animated series for Disney Channel. The plot takes place between Tangled and the short we did, Tangled Ever After, where Rapunzel and Flynn Rider got married. Alan Menken is coming back to do the music. It won't air until 2017, but we've already done the voice work on a couple of episodes. Great scripts! I'm also doing a really cool arc on Eva Longoria's new series, Hot and Bothered, which will be on NBC in the spring. It's really funny, kind of like a Latino 30 Rock. I play this 35-year-old white-guy president of Telemundo, basically. So a lot is going on at once. [Laughs] I'm trusting I'll have enough gas in my tank to pull it all off.
Any chance you'll pop up again in the Marvel universe, or did your gig as Fandral the Dashing disqualify you from other Marvel roles?
I worried about that very thing. I was cast as Fandral in the original Thor but had to bow out because we couldn't work it out with my Chuck schedule. I was so bummed. But then I was asked to be Fandral in Thor: The Dark World, because Josh Dallas, who replaced me in Thor, couldn't do it because of his schedule on Once Upon a Time. So it was a great second chance for me but, at the same time, I had to ask them: "Will this preclude me from other Marvel parts?" They said, "No! Chris Evans was the Human Torch and then he was Captain America." I said, "Yes, but Fantastic Four wasn't under the Marvel Studios banner when Chris did that film." I'm a nerd. I know my s–t! And there are a lot of Marvel characters I'd love to play. But I went ahead and did Fandral and, while we were shooting that, they had me screentest for Guardians of the Galaxy. So they seem sincere about considering me for other roles.
Hey, you're still sort of a fresh Marvel face. It's not like a lot of people recognized you as Fandral.
I know, right? I had good friends texting me during the movie going, "Dude, when do you show up on screen? Are you sure you're in this thing?" Then they'd get to the end credits and go, "What the hell! That was you? The guy with the blonde hair and the English accent?" I guess they expected a brunette American. With a pocket protector.
You'll be down at the New Children's Museum in San Diego during Comic-Con week with your own alternative event, Nerd HQ. Isn't that a bit competitive and cheeky?
I love Comic-Con! But here's the deal: I wanted to create something I felt was missing there—panels where the fans get to ask the questions instead of the moderators, because fans will go to the coolest, craziest, most off-the-cuff places, and it results in wonderful human moments, sometimes really deep, sometimes really silly. And we raise a lot of money for Operation Smile. This is our fifth year, and this time we've got William Shatner—which I can't freakin' believe!—along with Zachary Quinto, Joss Whedon, Nathan Fillion, Hayley Atwell, Elijah Wood and many more. [For a complete schedule, go to thenerdmachine.com] And we'll be live streaming all the panels through IGN. I am all about breaking down the walls between artists and fans, so, no, I do not consider Nerd HQ to be competitive and cheeky! I put my soul into this project.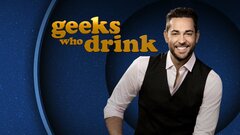 Powered by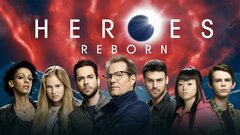 Powered by