First Look: 'Heroes Reborn' Key Art Hits the Skies
Update, August 14, 2015: Heroes Reborn Boss Promises Beginning, Middle and End for Reboot's Story
NBC continues to unveil its marketing plans for the highly anticipated sequel to its mid-2000s sci-fi drama Heroes. The new Heroes Reborn, a key priority for the Peacock network this fall, will air Thursdays at 8/7c for 13 episodes.
RELATED: Heroes Reborn Releases Action-Packed New Trailer | Heroes GIFs | Interview With Zachary Levi
Fans will get their first look at the newly reconfigured show at San Diego Comic-Con on Sunday, July 12 at 1:45 p.m. in the San Diego Convention Center's Hall H. Besides a screening of the show's extended trailer, creator Tim Kring will participate in a panel with cast members Jack Coleman, Zachary Levi, Robbie Kay, Kiki Sukezane, Ryan Guzman, Gatlin Green, Henry Zebrowski, Judith Shekoni, Danika Yarosh and Rya Kihlstedt. Returning cast member Greg Grunberg will moderate the panel.
To whet your appetite, here's the first look at the show's latest key art: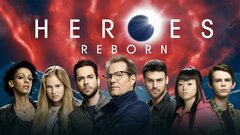 Powered by